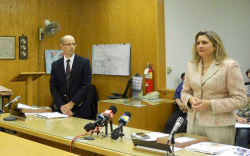 — A California woman who had won a small-claims battle against American Honda Motor Co. has lost the case on appeal.
Heather Peters originally was awarded nearly $10,000 in February after claiming her Honda Civic Hybrid didn't get 50 miles per gallon as stated in Honda advertising. Peters, who had opted out of a class action settlement to take on Honda herself, lost the appeal after Superior Court Judge Dudley W. Gray II ruled that EPA miles per gallon ratings are estimates and can be influenced by things such as the condition of the car and length of the trip.
Additionally, Gray ruled that despite many variables, most owners of the Honda Civic Hybrid achieve fuel economy very close to the EPA estimate.
Ms. Peters argued that Honda knew their car didn't get 50 miles per gallon and after a mandated software updated, Honda knew the car would get even worse gas mileage. Peters said the software update was meant to extend the life of the battery by using more gas, which would automatically decrease the miles per gallon.
Peters, a lawyer, said that she purchased the car based on wording in the advertisement, including phrases such as: the 2006 Civic Hybrid would use "amazingly little fuel" and would "save plenty of money on fuel - with up to 50 mpg during city driving."
But Gray said that slogans in an advertisement are not the same as a promise.
"It's a sad day when regulations designed to protect consumers are used against them," Ms. Peters said in a statement. "I'm certain that the EPA and FTC never intended to shield Honda from liability for advertising claims that a court of law determined to be false."
Ms. Peters said she wouldn't have paid a premium for a hybrid that Honda knew could never get 50 MPG in Los Angeles. Although Peters lost on appeal, she said the fight was worth it.
"I'm disappointed, but I'm still glad that I raised awareness that Honda is no longer the great brand that it used to be. They used to go the extra mile in customer service, now they go the extra mile fighting customers in court. I guess the moral of the story is buyer beware - especially of Honda!"