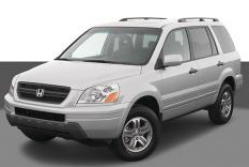 — What started as a preliminary investigation into alleged braking problems in the 2005 Honda Pilot has now been taken to an engineering analysis, the final step before a potential recall.
The National Highway Traffic Safety Administration (NHTSA) opened the original investigation in October, 2012, after they learned of 185 incidents of unexpected braking in the Pilot. Several drivers said their vehicles went from highway speeds to a complete stop without any warning.
We all want our car to be able to stop on a dime, just not randomly and without warning.
Possible Causes of the Sudden Braking
NHTSA said unexpected braking appears to be related to activation of the brake assist function when it shouldn't be activated. The system is designed to minimize stopping distances in emergency braking by quickly applying maximum braking force when a panic stop is detected.
Analysis of complaints and information provided by Honda found problems that may cause false detection of a panic stop by the braking system, resulting in unexpected, severe brake application.
Further, safety regulators said the problem is tied to the VSA system, which uses information from the wheel speed, steering wheel angle, yaw rate and lateral acceleration sensors to calculate the rate of change in vehicle side slip with respect to time.
If excessive side slip is calculated, the system modulates brake force pulses to individual or combinations of wheels to maintain stability.
NHTSA will verify if their initial findings are accurate, then determine if a full recall should be ordered. CarComplaints.com will keep you posted.
Related Reading: