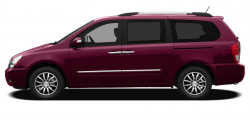 — Salt on the road might help with icy conditions, but it can cause all kinds of problems to a car years after the car was manufactured. The National Highway Traffic Safety Administration (NHTSA) has announced many recalls in the past where the affected cars were those only sold or registered in cold weather states.
NHTSA today announced Kia will recall almost 80,000 model year 2006-2012 Sedona minivans originally sold or currently registered in the following states: Massachusetts, Maryland, Michigan, New Hampshire, New York, Pennsylvania, Vermont, Wisconsin, Connecticut, Delaware, Iowa, Illinois, Indiana, Maine, Minnesota, Missouri, New Jersey, Ohio, Rhode Island, West Virginia or the District of Columbia.
On the affected minivans, salty environments can cause rust and corrosion to the front lower control arms causing them to break.
A New Hampshire driver of a 2006 Kia Sedona told CarComplaints.com that's exactly what happened to his Sedona as his wife was driving.
"On September 29, as my wife was making a slow speed right turn into a parking lot, there was a loud rubbing noise and it shook violently. After having it towed to the service center, it was found that the left front control arm had rusted and failed. I cringe at what would have happened if it had failed on the highway, as we were supposed to be on the Interstate that morning with a full van including 2-3 children."
This Kia Sedona owner was right to cringe at the thought of that happening on the highway because a busted control arm can mean a complete loss of vehicle control.
The recall is expected to begin in December, 2013. Kia dealers will inspect the degree of corrosion of the front lower control arms and will either rustproof or replace them.
Owners can contact Kia at 800-333-4542 and provide Kia with the recall number, SC100.