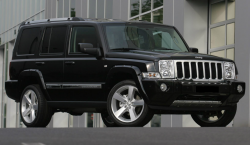 — Chrysler is recalling about 792,000 Jeep Commander and Jeep Grand Cherokee SUVs for ignition switch problems, plus about 21,000 other vehicles for shock/strut problems. The ignition switch recall comes less than a month after Chrysler recalled 696,000 Dodge Journey, Grand Caravan and Chrysler Town and Country vehicles for ignition switch problems.
Jeep Commander, Jeep Grand Cherokee
Chrysler says about 792,000 model year 2006-2007 Jeep Commander and 2005-2007 Jeep Grand Cherokee SUVs are recalled because a bump to the key could cause the ignition switch to move from the "on" position.
Chrysler says the "bump" is usually from a driver's knee hitting the key or key ring and shutting off the engine, along with killing the power steering, power brakes, and the ability for the air bags to deploy in a crash.
The exact number of recalled SUVs will be known later, but Chrysler estimates 649,900 are in the U.S.; 28,800 in Canada; 12,800 in Mexico and 100,800 outside those areas.
The automaker is aware of one accident caused by the defect but no injuries or deaths.
If you own a 2006-2007 Jeep Commander or 2005-2007 Jeep Grand Cherokee, remove all items from the key including any key rings and the key fob. Chrysler also advises owners to make sure there is plenty of clearance between your knee and the key to assure no physical contact.
Chrysler engineers don't know how to fix the problem and are working on the remedy. Owners should watch for mailed notices sometime in September, 2014.
Ram 1500, Jeep Cherokee, Chrysler 200
Chrysler says about 21,000 model year 2014 Ram 1500 pickups, 2015 Jeep Cherokee SUVs and 2015 Chrysler 200 sedans are recalled because the shocks and struts could break. A supplier found a problem that can cause the shocks and struts to separate from their mounts. Along with losing the soft ride of the shocks, a driver could lose control of the vehicle.
The recalled vehicles were manufactured within a 16-day period ending June 6, 2014, with 14,300 vehicles in the U.S.; 5,300 in Canada; 160 in Mexico and about 2,000 overseas.
The automaker is unaware of any injuries, accidents or complaints related to the problem with the shocks.
Chrysler doesn't know when the recall will begin, but owners affected by any of these recalls should call customer service at 800-853-1403.
Read what owners say about the vehicles named in the recalls: