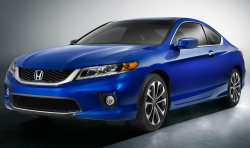 — Complaints about model year 2013 Honda Accord cars losing power steering control have caused The National Highway Traffic Safety Administration (NHTSA) to open an investigation into 374,000 Accords.
NHTSA said it knows of 24 incidents of power steering loss in 2013 Honda Accords which caused four cars to crash. If a car loses power steering at low speeds it can be extremely difficult to turn the steering wheel. NHTSA said the four crashes occurred at speeds less than 30 mph and happened suddenly without prior warning.
Although the loss of power steering is especially dangerous at low speeds, owners of the 2013 Honda Accord say steering control can be lost at any time and any speed.
"The driver was was turning left into our neighborhood. The power steering failed and he could not turn. The vehicle went over the curve and crashed into a fire hydrant. It pushed the car up in the air and back down hard. None of the airbags deployed." - 2013 Honda Accord owner / Little Rock, Arkansas
"We brought the car in when it [power steering loss] happened in May for the first time, they saw the problem but then it fixed itself. We left, after 1 1/2 weeks with no problems, for 4 months it sat waiting for our return and when we did returned to travel to the airport all of a sudden we had no steering again, on a major highway with a 70 mph speed limit." - 2013 Honda Accord owner / Lakeland, Florida
NHTSA says along with the steering complaints, safety regulators saw a pattern of problems in early warning reports submitted by Honda.
Some Accord owners allege the power steering warning message indicated a problem, but the message didn't activate until the cars had already lost power steering. Additionally, some owners said the power steering would start working again if the car was shut down and restarted. However, those same owners said the power steering would eventually fail again after the cars were restarted.
The 2013 Honda Accord power steering investigation will determine if a safety defect exists in the cars. If the government finds nothing, the investigation will be closed. If NHTSA finds evidence of a defect, the investigation could be expanded or 374,000 Honda Accords could be recalled.
While NHTSA said early warning reports submitted by Honda showed alleged problems with the power steering, Honda is in trouble about its early warning reports.
The federal government is currently investigating Honda for possibly hiding early warning reports about injuries and deaths related to exploding air bags.