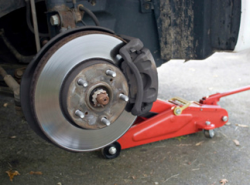 — In October 2013, the National Highway Traffic Safety Administration (NHTSA) opened an investigation into brake problems in model year 2009 Hyundai Genesis cars. Hours later Hyundai recalled over 27,000 of those cars to replace the brake fluid.
NHTSA says that Genesis recall came too late, $17.35 million too late. That's the amount Hyundai has agreed to pay for failing to report a safety-related defect to NHTSA within five days.
NHTSA imposed the $17.35 million civil penalty after realizing Hyundai knew in 2012 there was a problem with the brake fluid used in the 2009-2012 Hyundai Genesis.
The government said the fluid didn't protect against corrosion in the brake system, something that had caused six accidents and two injuries. Furthermore, NHTSA said it received 87 complaints about the Hyundai Genesis, most of those complaints about brake problems.
Hyundai should have ordered a recall in 2012, instead the automaker told dealers to change the brake fluid in Genesis cars without explaining the consequences of failing to change the brake fluid. NHTSA also said Hyundai failed to warn owners how dangerous the condition could be.
"Hyundai failed to act to protect their customers and others that were harmed in an accident, and must change the way they deal with all safety related defects," said NHTSA Acting Administrator David Friedman.
Along with shelling out $17.35 million, Hyundai agreed to make improvements to how it identifies and conducts recalls. The automaker also agreed to create a technical review committee to oversee Hyundai safety recalls.