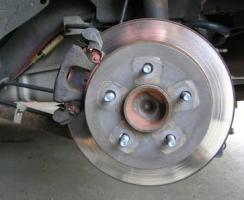 — A Hyundai Sonata brake pad/rotors class-action lawsuit is still alive after a federal judge denied part of the plaintiffs' claims but retained others. Specifically, U.S. District Judge Kenneth M. Karas tossed the breach of contract and unjust enrichment claims but allowed the lawsuit to proceed based on breach of warranty claims.
The Sonata defective brakes lawsuit was filed in 2012 after numerous owners complained about squealing brakes in model year 2006-2010 Hyundai Sonatas. Consumers also said the brake pads and rotors constantly wore out while the calipers would stick to the point of stopping the cars.
The plaintiffs claim the Sonata brakes either have corrosion problems or were manufactured with defective parts. Because it's a manufacturing or workmanship problem, Hyundai should be forced to cover all brake repairs under the warranty. Additionally, plaintiffs allege Hyundai should have ordered a recall long ago to replace the brake pads, calipers and rotors.
The lawsuit alleges Hyundai knew the brakes were defective and dangerous but concealed the defect from consumers when they bought the cars.
The Hyundai Sonata braking system lawsuit was filed in the Supreme Court of the State of New York - Karen Marshall, et al. v. Hyundai Motor America.
In July 2014, Hyundai did recall its Sonata after reports of fractured brake calipers, but that recall involved only the 2015 model year Sonata.