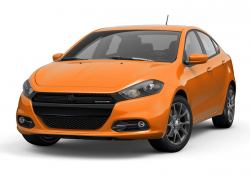 — Fiat Chrysler (FCA US) is recalling an estimated 27,500 model year 2013-2015 Dodge Darts that can shift into neutral and lose their ability to move even though the engine is still running. All the recalled Darts are equipped with dual dry-clutch transmissions.
Chrysler says it investigated the matter after receiving warranty claims about transmissions shifting into neutral for no apparent reason. The automaker determined a transmission control module mounting bracket can apply too much force and cause a circuit board to malfunction.
A driver might see a warning light illuminate on the dashboard, a sign to immediately call a Dodge dealer. Although the Dart won't move with the transmission in neutral, the airbags will still operate because the engine will remain running. The automaker says no injuries or accidents have been reported related to the transmission control module.
Dodge Dart owners will be happy to hear about the recall, at least based on how many people have been complaining about the transmissions shifting in neutral.
"My son was driving our car on the freeway, he heard a grinding noise, the car shifted into neutral all by itself and it would not come out of neutral. He took it into Vacaville Dodge (in California) who advised they fixed the problem and off we went. Less than one month later it happened again." - 2013 Dodge Dart owner / Vacaville, California
"I had the car loaded with gear (tent, sleeping bags etc.) and two bikes on a rack strapped to the back. I got about 30 minutes from my camp site, and the warning flashes on my IP telling me that the next gear is inaccessible. After that, the car begins slowing down even though I'm giving it gas. Four days later, after the dealership tells me they needed to replace a module on the transmission, I'm allowed to pick the car up. Ten miles down the road, it fails again. leaving me stranded." - 2013 Dodge Dart owner / Royal Oak, Michigan
Chrysler says about 23,688 of the Dodge Darts are in the U.S., 3,376 in Canada, Mexico has five cars and another 451 Darts are outside those areas.
All the cars were manufactured between February 24, 2012, to June 16, 2015.
Fiat Chrysler hasn't said when the Dodge Dart recall will begin, but dealers will install a redesigned mounting bracket and replace the transmission control module.
Owners of the recalled 2013-2015 Dodge Darts can contact Chrysler customer service at 800-853-1403 and give them recall number R42.
Read complaints about Dodge Dart transmission problems: