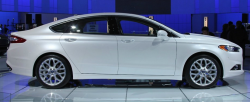 — Ford Fiesta door latch problems have earned the attention of the National Highway Traffic Safety Administration (NHTSA) as the safety agency expands a Ford investigation to include additional models.
NHTSA opened the original Ford Fiesta door latch investigation in September 2014, after 61 reports of door latch failures in model year 2011-2013 Fiestas.
Complaints have kept pouring in since the original investigation was opened, and now the government says 207 reports have been filed with NHTSA and another 451 reports were filed directly with Ford. NHTSA says 65 of its complaints claim the doors opened while the cars were in motion.
Two injuries allegedly occurred when the doors were slammed shut but bounced back and struck the owners. A complaint filed with Ford says a door flew open and struck another vehicle.
Although the original investigation included about 205,000 Ford Fiestas, NHTSA says the expanded investigation will include about 486,000 vehicles, and not just the Fiesta. Based on documents from Ford, the same door latch used in the 2011-2013 Fiesta was also used in the 2013 Ford Fusion and Lincoln MKZ.
Additionally, Ford documents show the automaker has received 1,079 warranty claims related to door latch failures.
In response to the original investigation, Ford said it doesn't believe a latched door will just inadvertently unlatch for no apparent reason. Ford also claims owners should have known if the door latch wasn't properly secured because many warnings should alert owners about a door that isn't latched.
NHTSA has doubts about the effectiveness of the warning signals due to the growing list of complaints related to doors opening while the cars are moving. NHTSA's thinking is sound because how many drivers would knowingly cruise down highways with the knowledge the doors weren't latched?
The expanded investigation will determine if a safety defect exists and if 486,000 cars need to be recalled.
Read owner-reported complaints about the cars named in the door lock investigation: