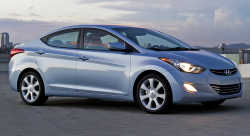 — Hyundai is recalling 27,700 model year 2011 Elantra and Sonata cars in cold weather states because front coil springs are breaking from corrosion. The recall includes Hyundai cars originally sold in, or currently registered in the following states:
Connecticut, Delaware, Illinois, Indiana, Iowa, Maine, Maryland, Massachusetts, Michigan, Minnesota, Missouri, New Hampshire, New Jersey, New York, Ohio, Pennsylvania, Rhode Island, Vermont, West Virginia, Wisconsin and the District of Columbia.
The automaker says cars that were previously registered in salt belt states but are currently registered elsewhere are eligible to be inspected and repaired under the recall.
In October 2014, Hyundai learned of an incident that involved a front coil fracture in a 2011 Elantra that caused noise from the suspension. An investigation into warranty claims noted an increase in front coil spring fractures in the previous winter months in "salt belt" states, areas where road salt is often used.
However, the automaker didn't believe the problem could be considered a safety defect, so no recall was ordered.
By February 2015, Hyundai kept seeing an increase in warranty claims and determined the fractures are caused by corrosion on the springs. The automaker tested what would happen if the springs broke and what effect it would have on the tires. It was concluded if a tire was punctured by a front coil spring, a driver could still control the Elantra.
Hyundai also found no accidents or injuries related to the spring fractures. Again, no recall was ordered.
In June 2015, the National Highway Traffic Safety Administration (NHTSA) told Hyundai about four complaints it received about springs breaking on 2011 Sonatas and an investigation determined what was occurring on the Sonatas was the same as the Elantra cars. After discussing the issue with NHTSA, Hyundai finally decided to conduct a recall of the cars.
Hyundai says the recalled 2011 Elantras were manufactured between November 12, 2010, to March 31, 2011, and 2011 Sonata cars were manufactured December 11, 2009, to February 28, 2010.
The Elantra and Sonata front coil spring recall should begin November 30, 2015. Hyundai dealers will replace the front coil springs, but owners who have questions can contact customer service at 855-671-3059.