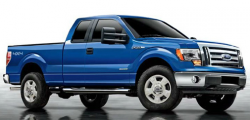 — Ford F-150 vacuum assist pump problems will be investigated by the National Highway Traffic Safety Administration (NHTSA) after the agency received 32 complaints about pump failures. NHTSA is worried because 60 percent of the complaints have been filed in the past nine months.
The investigation will focus on 250,000 model year 2011-2012 Ford F-150 trucks equipped with 3.5L GTDI engines. Owners complain about brake pedals turning to stone when trying to press the pedals, along with a corresponding loss of brake power assist.
"This pump is going to seize soon. This is a dangerous issue because when the pump seizes, the pedal has no vacuum assist and feels like a stone when brakes are applied. I have researched this extensively, and there are many owners with the same complaint, yet Ford will not take charge until someone gets hurt or killed. I contacted the dealership, and of course, it is not covered under their lousy warranty, and the cost at the dealership is a mere $588.47." - 2012 Ford F-150 owner / Rising Sun, Maryland
NHTSA says all the complaints are the same in one manner: The F-150 owners had no warning before the loss of brake power assist and the increased stopping distances required to get the trucks to stop. Two reports allege crashes blamed on the increased effort it took to stop the trucks.
The 2011-2012 Ford F-150 vacuum assist pump investigation will determine if the trucks should be recalled.
Update: October 20, 2015: NHTSA upgrades Ford F-150 brake vacuum pump investigation.