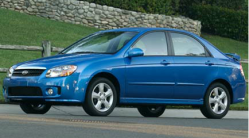 — The National Highway Traffic Safety Administration (NHTSA) has opened a preliminary investigation into possible airbag problems in 186,000 model year 2007-2009 Kia Spectra cars.
NHTSA says it kept receiving complaints about airbag warning lights illuminating due to a malfunction of the occupant classification system sensor mat located in the passenger seat. Dealers checking for diagnostic trouble codes see "B1448" which relates to the sensor mat.
However, the annoyance of looking at a warning light is the least of the problems. Once the light activates, that means the passenger-side airbag could deploy with a small child in the seat and injure the child. On the reverse side, the airbag could fail to deploy when it should with an adult in the passenger seat.
Spectra owners also complain about the cost to fix the problem and the timing of when the problem occurs, with some owners saying it wouldn't be worth it to repair the airbag problems. Complainants say the airbags typically fail after the warranty has expired, leaving owners with paying up to $1,300 for repairs.
"The air bag light on the dash along with the "passenger side air bag off" lights came on and stayed on during a 1 hour trip as we were moving to our new apartment. The sensor did not recognize my wife at a little over 110 lbs. Nor myself at over 175 lbs. After taking it to the local Kia dealership, we were informed that the OCS mat would need to be replaced with a cost of around $1100 for parts and $230 for the labor." - 2007 Kia Spectra owner / Greensboro, North Carolina
"My indicator on my dash board for an airbag problem came on, upon taking it to a maintenance shop they found out that it was due to a sensor going bad in the passenger seat. After they called multiple places, including the local Kia dealership regarding this problem, they informed me that this is a recurrent issue in my Kia model, so much to the point that a seat may only be attained from the manufacturer with a prolong waiting time because of the high demand for the replacement of them due to this problem." - 2007 Kia Spectra owner / Lynchburg, Virginia
The Kia Spectra passenger airbag investigation will determine if a safety defect exists and if Kia should order a recall of 186,000 Spectra cars.
CarComplaints.com has complaints about the 2007 Kia Spectra, 2008 Kia Spectra, 2009 Kia Spectra and other model years of Kia Spectra cars.