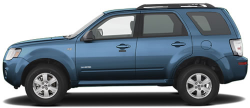 — In May 2014, Ford recalled 915,000 model year 2008-2011 Ford Escape and Mercury Mariner SUVs to fix a steering defect that has been linked to at least five accidents and six injuries. Owners report a sudden loss of power assisted steering while driving, a problem Ford said it could fix by checking the trouble codes and basing the repair procedure on the codes.
Specifically, Ford instructed dealers to check for trouble codes related to the power steering control module. If the technician didn't see any trouble codes, a software update was performed on the module and the instrument cluster module.
The update allegedly would make sure the SUVs wouldn't lose power steering while driving and would provide audio and visual warnings if problems occurred. If a driver received warnings, they were told to return the vehicle to the dealer.
If warnings were activated and the vehicle wasn't taken to a dealer immediately, the SUV allegedly could lose power steering assist, but only when the vehicle was shut down and restarted. If this happened, Ford said it would no longer make free recall repairs to the Escape and Mariner.
That left owners with paying up to $1,500 for a problem Ford should have repaired in the first place.
If the technician saw trouble codes during the original recall inspection, dealers were told to either replace the torque sensor or the power steering control module. The choice of what to replace was based on which trouble codes appeared.
Considering the accidents and injuries caused by the power steering defect, the best remedy for consumers would be to replace the torque sensor or the power steering control module regardless if trouble codes appeared or not. Instead, Ford chose the cheapest route by saying once the software update was performed, the recall was over.
Ford Escape and Mercury Mariner owners started complaining about losing power steering assist even though the SUVs had received the software update. Many owners report having no problems with their SUVs until after the software updates were performed by dealers.
Here's just a few examples from owners of the 2008 Ford Escape:
"Ford reprogrammed computer, was suppose to fix problem. Driving vehicle and power steering assist failure occurred. When this happened, jerked arms, caused pacemaker and defibrillator to pull and shift causing pain. Ford Company is refusing to fix." - Poca, West Virginia
"Bought used in July and immediately heard noise in front end. Had diagnosed coming from steering column. Told by dealer there was recall coming out to fix that problem and was safe to drive. Recall was done in August they just re-programed . 5 months later power steering went out. Had to replace steering column and we were responsible for the cost ($958.85). Told by Ford once it was reprogrammed their liability ended, even though it didn't prevent problem that recall was issued for!" - Jackson, Michigan
Now the National Highway Traffic Safety Administration (NHTSA) has received a petition asking the agency to investigate if Ford did it's job. NHTSA will evaluate the request and decide if it should opened a power steering defect investigation on the 915,000 SUVs.
Read owner-reported steering complaints about the 2008-2011 Ford Escape and Mercury Mariner: