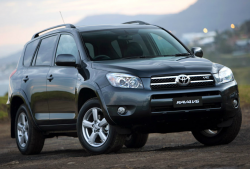 — A Toyota RAV4 oil consumption lawsuit alleges RAV4 owners must constantly spend money on oil due to a defect in the engine. The plaintiffs claim 2006-2008 Toyota RAV4 SUVs have engines that consume 1-quart of oil every 1,200 mile, a problem that grows worst as the vehicles get older.
Plaintiffs Maria and Jan Strama say their 2007 RAV4 has an engine defect that Toyota knew about but the automaker failed to inform consumers. The lawsuit says the defective engines cause a decrease in value and repairs to fix the problems can cost thousands of dollars.
According to the complaint, the plaintiffs wouldn't have paid a premium price for the RAV4 if Toyota would have admitted the alleged engine defect and oil consumption.
The plaintiffs say they took their RAV4 to a Toyota dealership many times from 2010-2015 concerning oil consumption and a smell of burning oil. Toyota technicians refilled the oil and replaced the filter and ordered an oil consumption test.
In 2011, Toyota sent dealers a technical service bulletin explaining what to do if a RAV4 customer complained about oil consumption. According to the lawsuit, the bulletin told dealers all repairs should be performed under warranty.
However, the plaintiffs say from 2010-2015 when they were taking their RAV4 to the dealer for oil consumption complaints, Toyota never informed the plaintiffs the repairs could allegedly be paid for under warranty.
The lawsuit alleges the RAV4 engines can be empty of oil when scheduled oil changes are performed. To fix the problem based on Toyota's recommended procedures can cost $2,000-$7,000. Those repairs involve replacing the piston and piston ring set of the engine and without the repairs, the engine allegedly can experience catastrophic engine damage and failure.
The Toyota RAV4 oil consumption lawsuit was filed in Cook County Illinois Circuit Court - Strama vs. Toyota Motor Sales, Inc.
The plaintiffs are represented by the KMD Law Office of Chicago.
Read owner-reported complaints about Toyota RAV4 oil consumption problems: