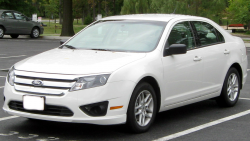 — Problems with 2010 Ford Fusion power steering systems have caused the National Highway Traffic Safety Administration (NHTSA) to open an investigation after Ford Fusion owners filed nearly 550 complaints.
Owners of 2010 Ford Fusion cars allege they suddenly lose power steering while driving, causing problems with controlling the cars, especially at slow speeds or on curves.
Some owners report the "power steering assist fault" warning lights activate at the same time power steering is lost, but the lights don't illuminate until the power steering fails. This leaves drivers unaware of what is about to happen until it's too late, something NHTSA says has caused 12 crashes and four injuries.
Complaints also suggest the loss of power steering can happen at any speed and the failures can come and go as they will.
With more than 550 complaints from Fusion owners, it's not difficult to find various stories about the problems, dangers and expense that result when the cars lose power steering.
"Power steering failed on my 2010 Ford Fusion. When I started my car the warning light came on power steering problem. Turning off engine and restarted which reset the power steering and came back. I took it to Ford dealer and the cost would be $1900.00 to replace power steering assembly." - 2010 Ford Fusion owner / Menifee, California
Another 2010 Ford Fusion driver said their car was personally introduced to a pole after the power steering took a holiday.
"Don't understand why no recall on my model but same models with same problem but different years do have a recall. I was just driving the street steering went out while I was attempting to go around a corner and hit a pole." - 2010 Ford Fusion owner / Knoxville, Tennessee
Ford has experienced trouble with the loss of power steering assist in Fusions before, something that caused the automaker to previously recall 423,000 vehicles, including the 2011-2012 Ford Fusion. That recall came about as a result of a 2014 investigation of power steering problems.
The automaker blamed the power steering loss on an electrical connection in the steering gear, but for some reason the 2010 Ford Fusion wasn't included in the recall.
Ford dealers were told to approach the recall repairs based on what diagnostic trouble codes appeared. In certain situations dealers updated the software for the power steering control modules, and in other cases dealers replaced the steering gears.
NHTSA says it decided to open the investigation because power steering complaints keep increasing from Ford Fusion owners.
Based on the results, safety regulators may upgrade the investigation, recall the cars or determine no safety defect exists.
CarComplaints.com will update our website when NHTSA completes its investigation.
Read owner-reported complaints about power steering problems in the 2010 Ford Fusion.