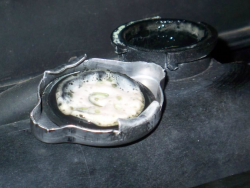 — Nissan cracked radiators and failed transmissions have caused a consumer group to warn consumers not to buy a 2005-2010 Nissan Pathfinder, Nissan Frontier or Nissan Xterra.
The North Carolina Consumers Council (NCCC) says to stay away from the vehicles because they have cracked radiators that allow antifreeze to mix with transmission fluid, causing total transmission failure.
NCCC filed a defect petition with the National Highway Traffic Safety Administration (NHTSA) in February 2012 after owners filed 512 complaints with NHTSA about transmission problems.
NHTSA responded to the petition by opening an investigation in June 2012 and listed the probable cause of the problems as a cracked transmission fluid line that runs through an engine coolant chamber in the radiator.
The consumer group says people should stay away from the vehicles because here it is four years later and NHTSA still hasn't concluded its investigation. The complaints to NHTSA have quadrupled since the investigation was opened and people continue to complain about spending a small fortune to keep driving the vehicles.
"I was once a huge fan of anything Nissan until this purchasing my 2005 Pathfinder. Within the first 3 years we had to have all of the rear AC lines replaced because of a leak that was discovered when we brought it in to the dealer for the issue of it not providing heat unless the car was moving. Now, $5k later, I know where all the coolant was going...into the transmission!" - 2005 Nissan Pathfinder owner / Aurora, Illinois
NCCC says Nissan issued a 8 year/ 80,000 mile warranty extension for the vehicles in 2007 for the transmission oil cooler/radiator assembly. Additionally, a class-action lawsuit was filed in 2010 alleging Nissan deliberately concealed the defective radiator problems in the 2005-2010 Pathfinder, Xterra and Frontier vehicles.
The lawsuit settlement provided extended coverage that covers a portion of the repair costs related to the problems for up to 10 years or 100,000 miles. However, Nissan owners still have to pay a deductible as high as $3,000.
With radiator and transmission complaints continuing, so do calls for the automaker to recall the vehicles, causing NCCC to warn people to avoid the vehicles until the government stops making consumers wait for answers.
"Apparently this is a well known and catastrophic failure issue, yet Nissan has not recalled these models nor taken enough effort to contact owners. This should be a recall issue given that by the time it is found the damage is done and repairs may be greater that the vehicle is worth." - 2005 Nissan Pathfinder owner / Sidney, BC, Canada
If you own a 2005-2010 Nissan Pathfinder, Nissan Frontier or Nissan Xterra and you're experiencing radiator or transmission problems, file your complaint here.
Read complaints and horror stories about transmission problems in the Nissan vehicles mentioned above: