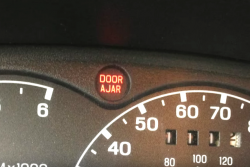 — Ford Edge "door ajar" light problems are under investigation by the National Highway Traffic Safety Administration (NHTSA) after safety regulators received 1,560 complaints about 2011-2013 Ford Edge door ajar lights that stay on and cost a small fortune to repair.
Ford Edge owners say the door ajar lights located on the instrument clusters stay on all the time even when all doors are closed and fully latched, leaving owners questioning if the doors are really closed.
Owners also complain about other problems associated with the door ajar lights staying on, such as drained batteries from both the door ajar lights and the dome lights staying on.
Some consumers report the doors won't lock with the door ajar lights constantly illuminated and other owners say the doors open while driving.
NHTSA says it doesn't know of any related crashes, but one person reported they suffered injuries due to the problem.
In addition to the safety hazards caused by the lights, owners say they have been forced to pay hundreds of dollars to fix problems those owners believe should be fixed under a Ford recall. However, one Edge owner said she was told by Ford the vehicles hadn't been recalled because there hadn't been enough complaints.
"I was driving down the road and the interior lights came on. The door light ajar sensor went bad and the car sensed that the door was open. I was completely blinded and couldn't see anything. I called Ford and they said they won't fix it but are aware of the problem. I filed a safety complaint with the NHTSA and told them what happened. Ford said that they haven't had ENOUGH complaints to warrant a recall." - 2013 Ford Edge owner / Pensacola, Florida
Then the owner of a 2011 Ford Edge said they thought it was a simple door sensor problem that would be covered under an extended warranty, but Ford said the problem was caused by the door latch, something not covered under the warranty.
"Recently my passenger door ajar light kept coming on. I didn't pay much attention to it; honestly just thought it was a sensor and I would take it in to get looked at. Eventually the light stayed on all the time, and even made my interior light stay on as well. I took it to my local Ford dealership this week, and it is not the door sensor, but the door latch. This is not covered under my warranty, and I will be paying $430 to get it fixed." - 2011 Ford Edge owner / Mason, Ohio
And back to the cost, the owner of a 2013 Edge said they shelled out more than $400 to fix the problem.
"Warning light would come on and inside lights would not go off. Sent Ford a letter because of safety issue no reply. I said the door latch should last the life of the car again no reply form Ford. $415 fix again no reply from Ford." - 2013 Ford Edge owner / Athelstane, Wisconsin
Ford did recently recall 2.3 million vehicles to fix door latch problems, but apparently the latches aren't associated with the door ajar lights because Ford didn't include the Edge in that recall.
NHTSA says the investigation will determine if a safety defect exists and if 380,000 Ford Edge cars should be recalled.
Have a complaint about your Ford Edge "door ajar" light? Add your complaint here, about any vehicle.
You can also read door ajar light complaints submitted by owners of the 2011 Ford Edge, 2012 Ford Edge and 2013 Ford Edge.