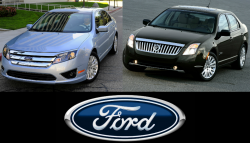 — Ford Fusion and Mercury Milan owners who complain about brake pedals that go to the floors should be happy to hear the government has opened an investigation into problems with the anti-lock braking system (ABS) hydraulic control units.
The National Highway Traffic Safety Administration (NHTSA) says the investigation includes 475,000 model year 2007-2009 Ford Fusion and Mercury Milan cars.
Fusion and Milan owners say that after the anti-lock braking systems activate, such as on slippery roads or any rough or uneven part of the roads, the brake pedals go soft and travel to the floorboards. At that point owners have a horrible time trying to stop the cars, a fact seen in complaints submitted by Ford Fusion drivers.
"Driving in city traffic, I was turning left and hit a rough patch of road. The car in front of me stopped because of road construction, when my Fusion hit the rough patch due to the construction and I applied my brakes, the pedal was very soft, going down to the floor board causing a car accident." - 2009 Ford Fusion owner / Glendora, California
Another Fusion owner said the only thing that got the car to stop was another car.
"I was driving my morning commute and began to brake as I approached a busy intersection (three directions of traffic but only 1 direction has to stop). Very small spots of unmelted snow were present on the road and again, the brake pedal went to the floor. I also went beyond my desired stopping point on this occasion, as well. In fact, the vehicle only stopped because I wrecked into the back of another vehicle that was waiting to turn." - 2008 Ford Fusion owner / Harrison, Ohio
NHTSA says it believes a malfunction inside the ABS hydraulic control units cause a loss of braking pressure, leaving drivers unable to stop or with longer stopping distances.
So far 141 complaints are known about the braking problems in 2007-2009 Ford Fusion and Mercury Milan cars, with at least three of those reports indicating crashes occurred because of the brakes, or lack thereof.
"Brakes keep going mushy after ABS activates, taking significantly longer to stop the vehicle. The ABS activates occasionally for no reason. Today traffic was stop and go, and when the car in front of me stopped and my boyfriend hit the brakes to stop, the ABS went on followed by the brakes malfunctioning which caused a rear end collision." - 2009 Ford Fusion owner / Tampa, Florida
Ford Fusion and Mercury Milan owners say the problems can continue for various lengths of time and the only way to make sure the problems stay away is to replace the ABS hydraulic control units.
Based on what safety investigators discover, the preliminary investigation could be expanded, closed or NHTSA could decide a safety defect is present and the best course of action would be to recall the cars.
CarComplaints.com will update our website with results of the investigation.
Read complaints about braking problems in the Ford and Mercury cars named in the investigation: