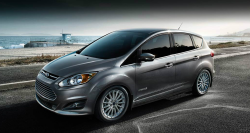 — Ford says a recall of 830,000 vehicles in North America is needed to fix doors that may open while driving, but only if those vehicles are in certain areas. Included in the recall are the following vehicles:
2013-2015 Ford C-MAX
2013-2015 Ford Escape
2012-2015 Ford Focus
2015 Lincoln MKC
2015 Ford Mustang
2014-2016 Ford Transit Connect
In the U.S., those vehicles are recalled only if they were sold in, or ever registered in these states:
Alabama, Arkansas, Arizona, California, Florida, Georgia, Hawaii, Louisiana, Mississippi, New Mexico, Nevada, Oklahoma, Texas, Utah, Oregon and Washington.
Ford says those areas have the most door latch reports because of "higher ambient temperatures and solar loading." However, owners outside those areas won't be completely locked out as Ford says those owners will be offered a "customer satisfaction program."
If a vehicle shows signs of a broken door latch, Ford will provide a one-time replacement at no charge for the life of the vehicle.
The National Highway Traffic Safety Administration hasn't released recall details, but Ford says the doors could fly open while driving because the pawl spring tab in the door latch could break.
Although the problem will typically prevent the door from latching in the first place, the automaker says a door that is able to close could unintentionally open while the vehicle is moving.
Having a door open while driving could cause real problems, and Ford says it looks like one accident and one injury have occurred because of the door latches.
The automaker says about 766,682 of the affected vehicles are in the U.S. and 61,371 are in Mexico.
Ford dealers will eventually replace the door latches in the vehicles, but owners with questions should call Ford at 800-392-3673.
Read complaints sent to CarComplaints.com about the recalled Ford and Lincoln vehicles: