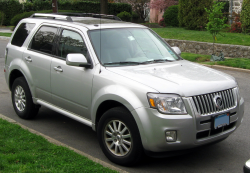 — Ford Escape and Mercury Mariner SUVs are recalled after Ford determined the vehicles can leak gas and catch on fire. About 411,600 model year 2010-2012 Ford Escape and 2010-2011 Mercury Mariner SUVs equipped with 3-liter engines are involved in the recall.
Ford says the flex-fuel engines are at risk of fuel leaks because the fuel delivery module's fuel supply ports can develop cracks. Those cracks can allow gas to leak and if it happens near any ignition source, be prepared for a fire.
The automaker says the dangerous defect hasn't caused any accidents or injuries, but Ford didn't say if any fires have been reported.
The 2010-2012 Ford Escape SUVs were built February 26, 2009, to April 29, 2012, and the 2010-2011 Mercury Mariners were built February 25, 2009, to December 12, 2010.
About 329,018 of the recalled SUVs are in the U.S., 69,576 are in Canada, 7,477 in Mexico and 247 in federalized territories.
Ford doesn't know when the recall will begin, but dealers plan on replacing the fuel delivery module flanges in the SUVs.
Ford Escape and Mercury Mariner owners who have questions should call 866-436-7332.
CarComplaints.com will update this page when more recall details are released. Until then, read complaints about the SUVs named in the Ford recall: