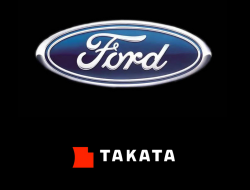 — Ford is recalling almost 1.9 million vehicles to replace Takata passenger-side frontal airbag inflators as part of a massive new recall of 35-40 million vehicles from numerous automakers.
The airbags are at danger of exploding when they deploy because the chemical ammonium nitrate used to deploy the airbags can become unstable due to time, heat and humidity.
It's an issue Ford takes seriously after realizing the consequences of using Takata airbags when Ford Ranger driver Joel Knight was killed by an exploding airbag.
The Ranger truck is included in Ford's latest recall involving nearly 1.9 million of the following vehicles:
2007-2010 Ford Edge
2006-2011 Ford Fusion
2005-2011 Ford Mustang
2007-2011 Ford Ranger
2007-2010 Lincoln MKX
2006-2011 Lincoln MKZ
2006-2011 Lincoln Zephyr
2006-2011 Mercury Milan
The automaker says the passenger frontal airbags are equipped with inflators that do not contain a drying agent called a desiccate. The ammonium nitrate is more susceptible to moisture intrusion without the drying agent, so all the airbag inflators will be replaced.
Although there has been a driver death in a Ford Ranger caused by an exploding Takata airbag, the automaker says there have been no reports of accidents or injuries related to the passenger-side airbags.
The total number of vehicles recalled is about 1,898,728, including 1,896,443 in the U.S., 1,304 in Canada and one vehicle in Mexico.
Ford hasn't indicated when the Takata airbag recall will begin, but dealers will replace the passenger-side frontal airbag inflators.
With questions, contact Ford at 866-436-7332.
Read owner-reported complaints about the Ford vehicles named in the Takata airbag inflator recall: