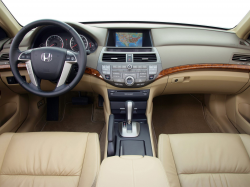 — About 341,000 Honda Accords in the U.S. are recalled because of airbags manufactured by Continental Automotive Systems. The Honda recall is part of a recall of 5 million Continental airbags.
Honda says the 2008-2010 Honda Accords have airbags that can fail to deploy in a crash, something that has so far caused two injuries. Continental told Honda the problem is a defect in the electronic control unit of supplemental restraint system (SRS), all caused by moisture and corrosion.
Airbag maker Takata has recalled millions of airbags because of moisture that can alter the explosive airbag chemical and cause the airbags to explode. In the case of Continental, the moisture problem is different because the electrical circuitry of the airbags can be affected by corrosion due to moisture.
If the unit fails, the SRS indicator will illuminate on the dashboard, meaning the airbags could fail in a crash.
Honda dealers will install new SRS control units in the Accords. However, replacement parts won't be available until fall 2016. Owners should look for the first recall in the mail in mid-March 2016. A second recall notice will eventually be mailed when replacement parts are available.
The automaker says Accord owners should watch for an illuminated SRS indicator on the instrument panel located in front of the driver. Honda says this isn't to be confused with the "Passenger Airbag Off" indicator located in the central dashboard area.
If an owner notices the SRS indicator illuminated, the car should be taken to a Honda dealer for a diagnostic check. If the test indicates a failure of the SRS electronic control unit, the dealer will use a limited supply of replacement parts to fix the car.
With questions concerning the 2008-2010 Honda Accord airbag recall, please call 888-234-2138.