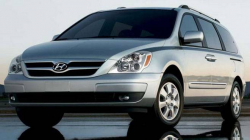 — Hyundai Entourage minivans have problems that cause the hoods to open while driving, so Hyundai is recalling more than 41,200 model year 2007-2008 Entourage minivans before more drivers are blinded by the hoods.
Hyundai received a complaint from an Entourage owner in June 2016 that alleged the hood latch disengaged, but an inspection by Hyundai engineers didn't find any problems.
In addition, the primary and secondary latches showed no corrosion, but another report arrived in September about a 2008 Entourage. Hyundai engineers wanted to investigate the minivan but it had already been repaired and no parts were available for inspection.
Along came October and Hyundai received a report on a 2007 Hyundai Entourage and the inspection of the secondary latch showed the presence of corrosion affecting movement of the secondary hood latch. It was this finding that convinced the automaker to order a recall of the minivans.
The recalled 2007-2008 Entourage minivans were built February 16, 2006, to June 30, 2008, and the automaker says no accidents or injuries have been reported due to the hoods.
The recall should begin on December 9, 2016, however, owners will be treated differently based on location. Dealers will replace the secondary hood latch if the vehicle was originally sold or ever registered in the following areas:
Alaska, Connecticut, Delaware, Illinois, Indiana, Iowa, Kansas, Kentucky, Maine, Maryland, Massachusetts, Michigan, Minnesota, Missouri, Nebraska, New Hampshire, New Jersey, New York, North Dakota, Ohio, Pennsylvania, Rhode Island, South Dakota, Utah, Vermont, West Virginia, Wisconsin and the District of Columbia.
For Entourage minivans in any other state, dealers will inspect and either lubricate or replace the secondary latches, as necessary.
Owners may contact Hyundai customer service at 800-633-5151 and give them recall number 154.
CarComplaints.com has owner-reported complaints about the 2007 Hyundai Entourage and 2008 Hyundai Entourage.