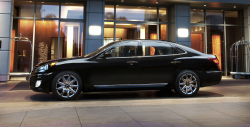 — Hyundai is recalling 18,700 Genesis and Equus cars to fix windshield wiper problems that can cause the wipers to fail. The 2012 Hyundai Genesis and 2011-2013 Equus have windshield wiper motor cover seals that can fall apart and lead to corrosion of the circuit board of the wiper motor.
Hyundai says it learned of a windshield wiper motor problem on a Genesis sedan in 2010 where the owner said the wipers worked only part of the time. However, the automaker didn't perform an investigation because it never received the wiper motor.
Another wiper report was received in 2013 concerning windshield wipers that failed on a Hyundai Equus. This got the attention of Hyundai and the automaker starting monitoring warranty claims while thinking the problem had a limited effect on the operation of the wipers.
In October 2015, an investigation found the windshield wiper motor supplier had revised the rubber seal manufacturing process for the motors.
The automaker says there have been no reports of accidents or injuries attributable to the wiper motor failures.
The recalled 2012 Hyundai Genesis cars were manufactured August 1, 2011, to April 30, 2012, and the 2011-2013 Hyundai Equus vehicles were built July 10, 2011, to June 12, 2012.
Hyundai says the recall should begin April 22, 2016. Dealers will replace both the windshield wiper motor cover and the seal.
Owners of the Hyundai Genesis and Hyundai Equus may contact Hyundai customer service at 800-633-5151 and give them recall number 140.
Read complaints submitted to CarComplaints.com about the Hyundai Genesis and Hyundai Equus.