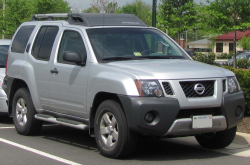 — Nissan Pathfinder, Frontier, and Xterra transmission failures won't be investigated by the National Highway Traffic Safety Administration (NHTSA) after safety regulators took more than four years to make their decision.
NHTSA was petitioned by the North Carolina Consumers Council (NCCC) to investigate Nissan transmission problems after owners kept filing complaints. Those owners of 2005-2010 Nissan Frontier, Pathfinder and Xterra vehicles complain about transmission failures caused by cracked radiators that allow antifreeze to mix with transmission fluid.
Safety regulators were petitioned in 2012 and asked to open an investigation following 2,505 complaints related to the transmissions, but NHTSA says an investigation isn't necessary.
NHTSA concluded that out of 2,505 complaints, 638 relate to stalling engines and vehicles that are unable to maintain speed, symptoms that could cause safety hazards. But according to NHTSA, the majority of complaints (1,867) aren't considered a risk to safety. Those complaints include the cost for repairs, vehicles that shake, overheating engines and customer satisfaction issues.
Although NHTSA found four crashes possibly related to the problem, safety regulators said no injuries have been recorded.
With nearly 860,000 Nissan trucks and SUVs at stake, NHTSA investigated radiators from the subject models by putting them through a series of tests. Safety regulators chose four radiators to inspect and test. Two were from salvage yards and were used to create the procedures for testing and inspecting the other two radiators, which were from complaint vehicles.
The owners of the two complaint radiators were interviewed, but NHTSA says owner concerns were based on money issues.
Although owners said the transmission failures could put someone in danger, NHTSA says the Nissan owners had no specific safety-related events to report.
The radiator from one complaint vehicle was found to be in good condition, and the owner's transmission problems were not related to the radiator or fluid cross contamination of engine coolant and transmission fluid.
The second radiator from a complaint vehicle was found to contain both antifreeze and transmission fluid. When the radiator was pressurized and submerged in water, bubbles were emitted from the transmission fluid ports. After removing the transmission fluid temperature stabilization tube and pressurizing the tube, bubbles were seen from near the discs at the mounting points of the ports.
When examined under a microscope, cracks and fractures were observed at the lead points. The other three non-leaking transmission fluid cylinders were inspected under the microscope and five of the six transmission fluid port areas were cracked.
Even with the finding of cracked radiators, NHTSA says Nissan did issue a warranty extension in 2007 for the transmission oil cooler and radiator that provided owners with an 8-year/80,000 mile warranty. Then due to a class-action lawsuit in 2010, Nissan Frontier, Pathfinder and Xterra owners received extended warranty coverage for certain repairs for 10 years or 100,000 miles.
Apparently this warranty coverage influenced NHTSA's decision to deny the defect investigation petition, but Nissan owners continue to complain about experiencing the problems outside the warranty periods.
The North Carolina Consumers Council says it has been frustrated with Nissan's response to the transmission problems since 2007, problems which have left owners paying up to $8,000 for repairs.
In May 2016, the NCCC told consumers to avoid 2005-2010 Nissan Pathfinder, Nissan Frontier and Nissan Xterra vehicles because of the transmission problems, and now the consumer agency isn't happy with NHTSA's decision.
"It is disappointing to learn that about fifty-six months after filing this petition—and fifty-six months of increasing owner complaints—that NHTSA has decided to close the investigation without a recall. Apparently, NHTSA does not feel that nearly 640 documented consumer complaints directly related to a potential vehicle safety hazard should be a priority or are worth an investment of agency resources. We find that notion to be incredibly misguided and irresponsible." - NCCC Executive Director Matthew Oliver
Federal safety regulators released a statement about denying the petition to investigate the Nissan transmission failures, indicating a recall of the 2005-2010 Nissan Pathfinder, Frontier and Xterra won't happen anytime soon, if ever.
"Taking into account the allocation of agency resources and priorities and the likelihood that additional investigation would result in a finding that an unreasonable risk to highway safety exists, we conclude that further investigation is not warranted and deny the petition." NHTSA
Have a complaint about your Nissan Frontier, Nissan Pathfinder or Nissan Xterra? Add your complaint here, about any vehicle.
Read complaints about the trucks and SUVs involved in the denial of the petition: