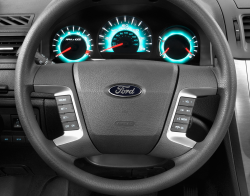 — A 2010 Ford Fusion power steering assist fault recall may be near as the government investigates more than 2,200 complaints and 1,720 warranty claims about Fusion cars losing power steering assist while driving.
About 263,000 model year 2010 Ford Fusions are affected by the upgraded investigation that was opened in September 2016 because owners said they kept receiving power steering assist fault warnings as drivers were left with manual steering.
Fusion drivers complain about losing power steering assist at both low and high speeds, causing an alleged 13 crashes and five injuries.
In 2014, the National Highway Traffic Safety Administration (NHTSA) opened a power steering investigation into 938,000 model year 2010-2012 Ford Fusion, Lincoln MKZ and 2010-2011 Mercury Milans.
In May 2015, Ford recalled some of those models, including the Fusion, but the automaker didn't recall the 2010 Fusion. Apparently that was a mistake as 2010 Fusion drivers continued to complain about power steering assist faults, causing NHTSA to open another investigation.
Customers complain about the dangers of losing power steering assist, but those owners also say the expense of repairing the problem is sometimes too much, such as these two owners of 2010 Fusions.
"Warning comes on says power steering shift. you cant steer the car. Turned car off and it did ok. Took it to dealer and they reset computer. Said needs to be replaced charge to replace $1400. charged $100 for reset. It keeps happening and I just don't have money to replace. They said this part is covered for free on 2011, but not 2010."
"no more than 3 minutes go by when the steering just locks and here I am on the freaking highway in morning traffic with no damn control over my car! What I can't seem to fathom is why Ford hasn't fixed this issue, do they need a body count or for 1 of their family members to be hurt in a situation like this before they put a recall? I work full time and support my family while my husband attends school, there is no way in y'all know where that I can afford the 1500+ that it'll cost to replace my power steering."
NHTSA's initial investigation of the 2010 Fusion cars found the power steering faults increase as the cars get older, and failure rates are similar to previous power steering investigations of other Ford models.
Safety regulators say the 2016 preliminary investigation is now upgraded to an engineering analysis to determine if the 263,000 model year 2010 Ford Fusion cars should be recalled.
CarComplaints.com will update our website with results of the investigation, but until then, check out what owners say about 2010 Fusion steering problems.