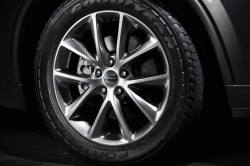 — Fiat Chrysler (FCA US) is recalling more than 646,000 Dodge Durango and Jeep Grand Cherokee SUVs in the U.S. that were already recalled in 2014 for the same problems. Another 42,000 SUVs are recalled in Canada and about 21,000 are in Mexico.
The 2011-2014 Dodge Durango and Jeep Grand Cherokee SUVs had brake booster shields installed under the 2014 recall that was issued to prevent water from entering the brake boosters.
If your SUV had repairs performed from the 2014 recall, you'll need to do the dance again because dealers may have improperly installed the brake booster shields. Although the parts to be used as replacements are the same as the parts now on the SUVs, the dealer instructions and claim processes will be updated.
FCA is concerned about faulty shields allowing water to cause corrosion, enough so that water could intrude into the brake boosters. Water in a brake booster won't lead to a good experience in cold weather if the water freezes and decreases brake performance.
The recalled SUVs were built from January 5, 2010, through September 8, 2013.
FCA says no injuries have been reported, but one crash may be linked to the brake booster problem. If the problem occurs, a driver may notice a warning light or experience an activation of the anti-lock braking system. In addition to affected brake performance, a driver may also notice the brake pedal is harder to push.
The Dodge Durango and Jeep Grand Cherokee recall should begin November 7, 2017. Dodge and Jeep dealers will inspect the brake booster shields and make any needed corrections.
Affected owners who have questions should call 800-853-1403 and ask Chrysler about recall number T59.