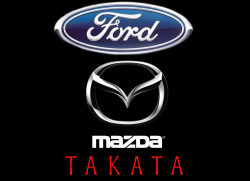 — The National Highway Traffic Safety Administration (NHTSA) has denied petitions from Ford and Mazda that requested more time to decide whether to recall more than 3 million vehicles.
NHTSA says the request for additional testing by the automakers isn't reasonable based on the data that has been collected.
Ford and Mazda filed the petitions after Takata said defective airbag inflators were installed in Ford, Mazda and Nissan vehicles originally believed to be safe.
Nissan took the hint and ordered a recall of 515,400 model year 2007-2011 Versa sedans and 2007-2012 Versa hatchbacks. But Ford and Mazda replied the inflators likely didn't need to be replaced because they contain a desiccant called calcium sulfate to keep the ammonium nitrate dry.
Ammonium nitrate is used to create the explosion used to deploy the airbags, but the chemical can become unstable due to age and moisture.
Takata first believed the desiccated airbag inflators wouldn't need to be replaced, but testing indicated possible dangers, so NHTSA requested the recalls of vehicles from the three automakers.
Mazda won't have too much to handle due to NHTSA's denial of the petition because only 6,000 vehicles will need to be recalled. However, Ford will need to recall up to 3 million vehicles, including the following models:
2006-2012 Ford Fusion
2006-2012 Lincoln MKZ
2006-2011 Mercury Milan
2007-2011 Ford Ranger
2007-2010 Ford Edge
2007-2010 Lincoln MKX
Takata airbags have killed at least 19 people worldwide and injured at least 200 after the metal inflators inside the airbags exploded and sent sharp pieces of metal into the vehicle occupants.
About 46 million vehicles have been recalled in the U.S. and eventually led to Takata's bankruptcy.