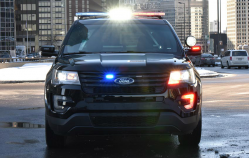 — A Ford Explorer carbon monoxide lawsuit has been filed by another Texas police officer who alleges his Police Interceptor SUV poisoned him and caused nausea, headaches and vision problems on July 21, 2017.
Austin police officer Ryan Hancock says his symptoms continued the next day and caused him to seek medical help. According to the lawsuit, tests conducted at the hospital showed his symptoms were from carbon monoxide poisoning. Furthermore, the plaintiff says his nervous system has been damaged by the fumes.
Accused of negligence, Ford allegedly should pay for Hancock's lost earnings, medical bills and pain and suffering.
Hancock is represented by Brian Chase, the same attorney representing Zachary T. LaHood, another Austin police officer who sued Ford over carbon monoxide claims. LaHood says exhaust fumes and carbon monoxide caused him to experience nausea, vision problems and a headache while on patrol.
LaHood's Explorer made it to a parking lot, but his lawsuit says he nearly hit a bus after he passed out behind the wheel. As in the case of Hancock, LaHood says the hospital diagnosed him with carbon monoxide poisoning.
Lawsuits filed against Ford and related to exhaust and carbon monoxide fumes claim Ford hasn't been able to repair the problems because there are defects in the design of the SUVs, defects that have existed since the Explorers were manufactured.
As with other Explorer lawsuits, attorneys point to technical service bulletins (TSBs) sent by Ford to its dealerships with instructions concerning exhaust fumes entering the passenger compartments.
A 2012 bulletin recommends that dealers undercoat and seal areas of the floor pans and body seams, install lift gate valves and replace air extractors. And a TSB sent to dealers in 2014 said that technicians should make software changes to the air conditioning recirculation mode when the Explorers are in full throttle.
Previous lawsuits about non-police Ford Explorer exhaust and carbon monoxide problems have ended in the courts with different outcomes. Ford agreed to settle a Florida exhaust fumes lawsuit that was granted final approval on June 21, 2017, but the settlement was appealed and will not be effective until the appeal is resolved.
In a separate lawsuit that was dismissed, the case never made it to class-action certification because the judge ruled the plaintiff didn't provide enough details to prove the Explorer had defects that allowed exhaust fumes and carbon monoxide to enter the cabin.
As for police Explorers, the Austin Police Department said in March it would equip Ford police vehicles with carbon monoxide detectors that change color if carbon monoxide is detected.
Other law enforcement agencies across the country started reporting possible problems with carbon monoxide and exhaust issues, so Ford created a program to send engineers to those agencies. The automaker focused on holes and gaps that weren't properly sealed after third parties installed equipment on the Police Interceptors.
The Austin Police Department was a big focus of Ford because of reports made by officers and the fact Austin owns about 400 Ford police vehicles that were yanked off duty. Inspections and repairs were made by Ford, then two additional reports came in after the vehicles had been repaired.
Those two reports indicated high carbon monoxide levels triggered detectors in the repaired Interceptors, until the Austin police chief said they were false alarms. Although alarms did activate and paramedics were called to treat an officer, the chief later said the alarms were activated by something other than carbon monoxide entering the cabins from the vehicles.
The Ford Explorer carbon monoxide lawsuit was filed in the Travis County 98th Judicial District Court, Texas - Ryan Hancock v. Ford Motor Company, et. al.
Officer Hancock is represented by Brian Chase.
Read complaints about what Explorer owners say about the exhaust systems: