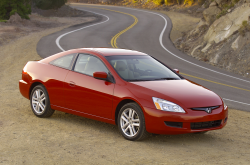 — Honda is recalling more Accords to replace Takata airbags at risk of exploding when they deploy.
More than 37,400 model year 2003 Honda Accords equipped with four-cylinder engines will be called back to dealers to determine if original passenger frontal airbags were replaced with dangerous Takata airbag inflators.
In December 2016, Honda was notified of an abnormal airbag deployment in a 2003 Honda Accord that occurred to both frontal airbags. The automaker identified two companies, Neaton, and Takata, as suppliers for the passenger frontal airbag modules for the 2003 Accord.
Honda then confirmed that Neaton airbag modules were used for mass production while Takata modules were used for replacement service parts only for the 2003 Honda Accord.
Honda says it believes only a small percentage of Accords had the original passenger frontal airbags replaced with Takata inflators, but Honda can't take a chance considering the majority of deaths have occurred in Honda vehicles. Accord occupants are left helpless when the metal inflator inside the airbag explodes and sends shrapnel into the cabin and the occupants.
Accord owners will be contacted in May 2017 and asked to get the cars to dealers for inspection. Dealers will inspect the passenger frontal airbag modules to determine if they were made by Takata and any Takata airbags will be replaced with inflators from a company called Daicel.
If you own a 2003 Honda Accord equipped with a four-cylinder engine and have questions, call Honda at 888-234-2138 and request information about recall number KF0.
CarComplaints.com has owner-reported complaints about the 2003 Honda Accord and other model years of Honda Accords.