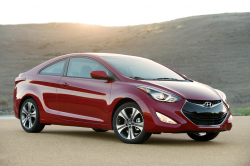 — A Hyundai brake light switch and pedal stop pad recall has been ordered as an extension of a 2016 recall for the same problem.
The automaker says more than 390,400 model year 2013-2014 Elantra sedan, coupe and GT cars are affected by this latest action.
In 2016, Hyundai recalled 64,500 model year 2013 Elantra cars because of the brake light switches and brake pedal stopper pads.
The automaker continued to monitor reports from the field and in the second quarter of 2017, Hyundai noticed an increased warranty claim rate for Elantras that weren't included in the 2016 recall. Brake pedal stopper pads were collected from the vehicles that were built between 2012 and 2014.
The brake pedal stopper pad is located between the brake light switch and the brake pedal arm, but the stopper pad material doesn't have enough polymer, causing the material to deteriorate. Over time the brake light switch plunger will stay extended when the brake pedal is released, causing the brake lights to stay on all the time.
The shift lever will move from the PARK position without a driver pushing the brake pedal and the traction control warning lights will illuminate. In addition, the brake pedal override will activate.
Hyundai says it doesn't know of any injuries or crashes related to the defect.
The problem has haunted Hyundai for a few years because previous to the 2016 Elantra recall, the automaker had recalled Sonatas for the same brake light switch and stopper pad problems.
Hyundai dealers will replace the Elantra brake pedal stopper pads when the recall begins February 8, 2018.
If you own a 2013-2014 Elantra and have concerns, call Hyundai at 800-633-5151 and ask about recall number 170.
CarComplaints.com has owner-reported complaints about the 2013 and 2014 Hyundai Elantra, as well as other model years.