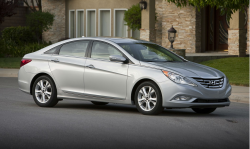 — Hyundai is recalling 305,000 Sonata cars because of brake lights that won't turn off. The 2011-2012 Sonatas have brake lights that stay on when a driver removes their foot from the brake pedal. Additionally, the transmission can be moved out of "park" without pushing the brake pedal.
In July 2014, Hyundai began to look into warranty claims that involved replacement of the brake pedal stopper pads. As warranty claims increased, Hyundai started reviewing changes to the materials made by the supplier of the stopper pads.
The stopper pad is located between the stop light switch and the brake pedal arm. Hyundai believes the stopper pad material can deteriorate, which allows the stop light switch plunger to remain extended when the brake pedal is released by the driver.
Hyundai is emphasizing the investigation continues and it's possible a different cause for the problem could be found. If that happens, the cars will need to be recalled again.
The recalled Hyundai Sonata cars were built from December 11, 2009, to June 30, 2011.
The Hyundai Sonata recall will begin January 11, 2016, when Hyundai dealers will replace the brake pedal stopper pad with a better built pad.
If you own a 2011-2012 Sonata and have questions, call Hyundai at 855-671-3059 ad use recall number 136.
The Hyundai Sonata has been a popular car for recalls the past five months. In July 2015, Hyundai recalled 140,000 Sonatas to fix seat belt problems. In September, about 470,000 Hyundai Sonata cars were recalled due to a risk of fire.
Then in October, the Sonata was recalled to fix problems with front coil springs breaking. Again in October 2015, the Hyundai Sonata was recalled after reports of problems related to the anti-brake warning light.