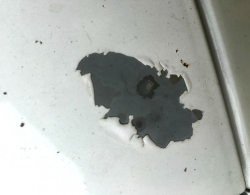 — A Hyundai Elantra, Santa Fe and Sonata peeling paint lawsuit is over, and although it's not the first time the lawsuit has been dismissed, it will be the last as the judge removed all hope for the plaintiffs to amend the complaint.
The judge said this dismissal is with prejudice because the plaintiffs keep repeating the same allegations that were already dismissed.
The lawsuit alleges the 2006-2016 Hyundai Elantra, Santa Fe and Sonata are covered with paint that peels, bubbles, flakes and leaves the vehicles prone to rust and corrosion.
Owners have complained about paint peeling off in sheets because of an elastic chemical compound called "Scratch Recovery Clear" used allegedly to help scratches heal. The paint is supposed to use ultraviolet light to cause the polymer to enter a molten state that fills in scratches.
However, the lawsuit alleges the paint falls apart as the polymers break down and make the paint susceptible to peeling and flaking.
According to the lawsuit, other automakers used self-healing paint in the past but stopped because customers kept complaining about peeling paint.
In addition to the paint disappearing and leaving the body unprotected against corrosion, the plaintiffs claim their vehicles have lost value because the cars look lousy.
The lawsuit alleges Hyundai lied about the paint when the company said the coating will "stand the test of time," but the automaker argued the claim must be true only according to the warranty period. The judge agreed and said the plaintiffs can't expect paint to last for decades nor the warranty to last forever.
The judge said the arguments in the lawsuit weren't backed up by evidence or answers from the plaintiffs. While owners complained about problems with self-healing paint used on the vehicles, the judge said those owners never proved those problems were known by Hyundai.
According to the class-action lawsuit, Hyundai concealed defects in the paint and must have known about the alleged problems because of the number of people who were complaining online. However, the automaker argues there is no reason people should believe Hyundai knew about any alleged problems unless those people complained directly to Hyundai.
The Hyundai Elantra, Santa Fe and Sonata peeling paint lawsuit was filed in the U.S. District Court for the Central District of California - Michelle Resnick, et al., v. Hyundai Motor America, Inc.
The plaintiffs are represented by Greg Coleman Law, Jean Sutton Martin PLLC, Napoli Shkolnik PLLC, Morgan & Morgan Complex Litigation Group, and McCuneWright LLP.
CarComplaints.com has complaints about the Hyundai Sonata, Hyundai Elantra and Hyundai Santa Fe Sport.