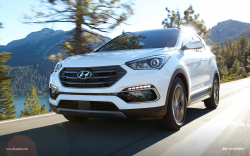 — Hyundai is recalling more than 1,200 model year 2018 Santa Fe Sport SUVs because of problems with the side curtain airbags.
Hyundai joins Ford and Kia in recalling vehicles because of airbag inflator diffusers that weren't manufactured to specification and can detach from the inflators when the side airbags deploy.
The side curtain airbag probably won't deploy properly to be able to protect an occupant. In addition, Hyundai says it can't guarantee the detached diffuser will remain in the airbag, and if it doesn't, occupants could be harmed by the projectile.
The 2018 Hyundai Santa Fe Sports were built in Alabama and Georgia between September 5, 2017, and November 30, 2017.
The automaker says dealers will replace both side curtain airbags once the recall begins February 9, 2018.
Hyundai Santa Fe Sport owners with questions should call 855-671-3059 and request information about recall number 171.
CarComplaints.com has owner-reported complaints about Hyundai Santa Fe and Santa Fe Sport SUVs.