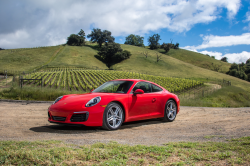 — Porsche is recalling about 4,100 cars and 37 engines to repair problems that can cause gas leaks and fires. The recalled cars include the:
2017 911 Carrera
2017 911 Carrera S
2017 911 Carrera 4
2017 911 Carrera 4S
2017 911 Targa 4
2017 911 Targa 4S + GTS
2017 911 Carrera Cabriolet
2017 911 Carrera S Cabriolet
2017 911 Carrera 4 Cabriolet
2017 911 Carrera 4S Cabriolet
2017 718 Boxster
2017 718 Boxster S
2017 718 Cayman
2017 718 Cayman S
The recalled replacement engines are 2.0L, 2.5L, 3.0L LP and 3.0L HP engines with part numbers 9A2100920 X, 9A2100925 X, 9A2100927AX, 9A2100930 X and 9A2100930AX.
The automaker says the fastening screws for the fuel collection pipes can shear off and cause gas to leak in the engine compartment, but no reports of fires related to the gas leaks have been received.
Porsche received a report in March 2016 about an incident where fuel leaked due to a busted fastening screw in the fuel collection pipes. After gathering the affected parts, engineers determined a crack was caused by corrosion of the threads, likely caused by exposure to "extreme conditions."
No other reports were received, so engineers thought it was an isolated event due to the Porsche being used on a dirty race track. However, another report came in describing the same gas leaks, then a third and fourth showing broken fastening screws.
The automaker also realized three of those reports involved cars used on the same race track in Britain, so engineers performed stress tests on the parts and noticed cracks appearing due to corrosion.
A recall date hasn't been announced, but dealers will need to install improved fastening screws to make sure fuel doesn't leak.
If you have questions and own one of the cars or engines, call Porsche at 800-767-7243 and ask about recall number AH01.
CarComplaints.com has complaints about the Porsche Cayman, Porsche Boxster and other Porsche cars.