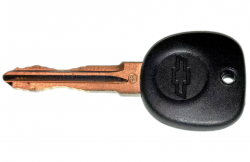 — General Motors has won the favor of federal prosecutors who asked a federal judge to dismiss the criminal complaint against the automaker over its concealment of ignition switch defects that killed at least 124 people and injured at least 275.
The federal case goes back to 2015 when GM was granted a deferred prosecution agreement with the government.
The automaker was charged with wire fraud and concealing defects after officials learned defective ignition switches had been responsible for GM cars that lost power and crashed.
The defective switches, which could have been replaced for 57 cents each, could move out of the "Run" positions and into the "Off" or "Accessory" positions from a simple bump in the road, forcing the cars to lose power steering and power brakes without warning.
Engineers also found that a heavy key ring could cause the defective switch to move and shut down the car. In many cases electrical power to the airbags was lost, leaving occupants unprotected when the cars crashed.
Federal prosecutors determined the automaker had concealed the defects for 10 years while GM claimed it was a "New" and improved company thankful for a $49.5 billion bailout loan from the U.S. government. But instead of changing its ways, the bailout cost taxpayers $11.2 billion as the automaker continued to sell defective and deadly vehicles.
Although the federal investigation was labeled as "criminal," no GM employees or management were arrested, although there were GM owners who went to jail because of the switches. As part of the sweet federal deal, U.S. prosecutors agreed to drop federal charges if GM agreed to abide by the terms of the 3-year agreement.
The automaker has paid at least $2.5 billion in fines and to cover lawsuit settlements, with ignition switch cases still ongoing in the court system.
As it did following the 2009 government bailout, General Motors says the company has recreated itself into a business that puts consumers and safety first.
However, the automaker is currently trying to convince the government that a safety recall isn't necessary to replace Takata airbags in millions of trucks and SUVs.