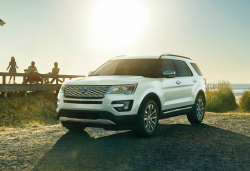 — A Ford Explorer exhaust leak recall should be ordered for 2011-2017 SUVs to prevent occupants from exhaust fumes and carbon monoxide, according to the Center for Auto Safety (CAS).
The safety agency says customers continue to complain about exhaust leaks in the cabins of the Explorers even after Ford dealers allegedly fixed the leaks.
It's been two years since the National Highway Traffic Safety Administration (NHTSA) opened an investigation into possible exhaust leaks in about 1.3 million SUVs in the U.S. According to the Center, while NHTSA has failed to complete the investigation, Ford has also failed to fix the exhaust and carbon monoxide dangers.
For the second time, CAS has sent a letter to Ford CEO Jim Hackett requesting a nationwide recall "before tragedy strikes."
The exhaust leak issue has followed Ford with a grim persistence for the past few years after customers complained of smelling exhaust fumes and getting sick while in the Explorers.
The problems hit police departments that used Explorer police SUVs, with some officers filing suit against the automaker following claims of crashes and sickness from the fumes.
CAS claims carbon monoxide complaints have increased dramitically since NHTSA opened its investigation in July 2016, and the complaints continued to increase after Ford announced a "complimentary service" program in October 2017 for about 1.3 million 2011-2017 Explorers in the U.S.
Ford says it will keep the program open until December 31, 2018, requiring dealers to seal the rear of the SUVs, reprogram the air conditioners and replace liftgate drain valves.
CAS says Ford should order a recall to replace cracked exhaust manifolds that allow carbon monoxide and exhaust fumes to enter the cabins. The manifolds are a target for federal investigators who have found evidence of cracked manifolds.
CAS says Ford continues to refuse to acknowledge there is any danger relating to exhaust fumes and that carbon monoxide levels don't exceed normal levels people are exposed to every day.
Although the investigation includes 2011-2017 Explorers, the Center says the exhaust leak problems seem to have carried over to 2018 Explorers, leading to the possibility the leaks are caused by design flaws in the SUVs.
"Do not drive your vehicle if you smell exhaust fumes. Carbon monoxide is present in exhaust fumes. Take precautions to avoid its dangerous effects." - Ford Explorer owner's manual
CAS says Ford has taken the cheap way out by not replacing all manifolds that may be crack, choosing instead to seal alleged gaps in the SUVs and performing simple software updates.
According to the letter sent to Ford, the Center for Auto Safety has continued to be contacted by Ford customers claiming symptoms related to carbon monoxide, including after Ford dealers allegedly fixed the problems.
"With all due respect to the efforts undertaken by Ford, and NHTSA, over these last two years, the continued complaints and their corresponding reports of incidents and injuries demonstrate the problem of Carbon Monoxide exposure inside Ford Explorers has not been resolved." - The Center for Auto Safety
Read what owners tell CarComplaints.com about the Ford Explorer exhaust systems: