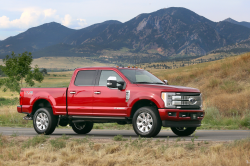 — More than 410,280 Ford F-Series trucks in the U.S. are at risk of fires while the engine block heater cables are plugged into wall outlets, with another 464,000 trucks affected in Canada.
Three fires are already blamed on block heater cables that were corroded by water and other contaminants.
2015-2019 Ford F-150
2017-2019 Ford F-250 Super Duty
2017-2019 Ford F-350 Super Duty
2017-2019 Ford F-450 Super Duty
2017-2019 Ford F-550 Super Duty
Ford learned of three truck fires in September and October, with two of those fires occuring in 2017 F-150s and one in a 2017 Ford F-450 Super Duty. All three fires occurred in Canada when the engine block heaters were plugged into wall outlets.
Ford analyzed warranty data for F-Series trucks with block heaters and found reports of heaters that stopped working, household breakers and outlets that tripped, reports of smoke and allegations of cables that melted.
Ford says a combination of things make the engine block heater cable susceptible to moisture, including a female connector angled upward at a 45-degree angle. In addition, the vehicles have low mounting positions and unshielded or exposed mounting locations.
Trucks located in areas where road salt is used are more likely to experience problems because of corrosion to the splice connector terminals. Over time, the corrosion can cause short-circuits in the splice connectors.
If electrical shorts are causing trouble, owners may receive warnings in the form of block heater failures or if home breakers or outlets trip. Customers should also be on guard for buzzing sounds or smoke or sparks when the heater cables are plugged into wall outlets.
Ford says a driver shouldn't worry about problems unless the truck is parked and the block heater cable is plugged into an electrical outlet.
The Ford truck engine block heater cable recall is expected to begin January 7, 2019. Ford dealers will either seal the block heater cables or replace them.
Concerned truck owners should call 866-436-7332 and refer to Ford's recall number, 18S45.