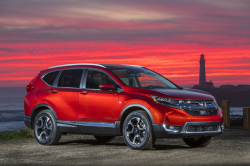 — Reports of Honda CR-V rising oil levels are being monitored by Honda officials in the U.S. after Chinese officials rejected Honda's plans to recall 350,000 CR-Vs and Civics in that country.
The rising oil level and fuel smell problems first got the attention of Chinese regulators after Honda CR-V owners started complaining about those specific issues, along with complaints about illuminated engine warning lights and damaged engines.
Honda CR-V owners in China, in addition to certain Honda Civic owners, were complaining about fuel mixing with the engine oil, causing oil levels to continually rise and send fuel odors into the cabins. The problems hit Honda customers hardest in the northern areas of China where very low temperatures are common.
The automaker claims the problem occurs due to a combination of a cold climate and short driving trips that cause condensation and excess fuel vapors if the engines don't have time to reach temperatures that would normally burn off the contaminants.
According to Honda, excess fuel builds up and stays in the oil pans where it would normally evaporate and recycle through the combustion chambers of the engines.
Dongfeng Honda, a Chinese car company half-owned by Honda, originally announced in February 2018 a recall of 350,000 Honda CR-V SUVs and Honda Civics, both equipped with 1.5-liter turbocharged Earth Dreams direct injection engines.
At the time, Dongfeng said it wasn't too concerned with reports of damaged engines because the Honda Technology Research Institute conducted lab and real-world driving tests in the extreme cold of northern China and determined high oil levels do not cause engine damage.
Reports of illuminated engine and oil warning lights were explained by the rising oil levels 21 mm above the limit of the oil dipstick.
Engineers at the time also claimed they could find no evidence of abnormal engine wear, leading Dongfeng Honda to conclude a recall would be good enough to fix the problems.
Honda told CR-V owners in China that until recall repairs were complete, owners should limit idling periods, use block heaters on the SUVs and drive the vehicles in lower gears at the beginning of trips to warm the engines faster. The automaker said longer trips at higher engine revolutions would help the excess fuel and vapors to properly evaporate.
Dongfeng Honda said the 350,000 vehicles would have adjustments made to the timing and speed of the engines and updates of the fuel injection timing and gasoline injection control software. Additionally, the warranties of the CR-Vs would be extended to six years to calm the fears of owners.
However, Chinese regulators put a halt to Honda's plans and the automaker's ability to sell new CR-Vs in the country. Chinese officials say Honda needs to do more to address and fix the oil level and gas odor problems, forcing Honda to issue a stop-sale on new SUVs until government-approved recall repairs are performed.
As Chinese regulators, customers and the automaker itself discovered the increasing oil levels, CR-V owners in Canada and the U.S. were reporting similar symptoms, including allegations of damaged engines.
A Canadian owner of a 2017 Honda CR-V told CarComplaints.com that Honda's position about engine damage is contrary to what tests appear to show.
"Although Honda in China stated in a press release that this issue would not cause engine damage I believe my oil analysis report provides evidence to the contrary. I was told upon receiving my report that oil was at approximately 5% of the viscosity it should have and that the wear metals number should not be higher then 20. My number was 218. That's insanely high. Honda has yet to respond to this oil analysis report."
Another 1.5-liter 2017 CR-V owner in Canada says they took their SUV to a dealer after hearing "unusual engine noise." The Honda dealer allegedly told the customer the engine had been damaged because the oil level was too high and mixed with fuel.
"...the dealer has told me they will replace entire cylinder head. They have not told me that there is a fix to the cause of the problem nor can they tell me how long it will take to fix the damage. Honda needs to address this problem and communicate with their affected customers as to what the plan is. They also need to either offer buy-backs or extend the warranty once resolved to 6 years."
Although the notice doesn't confirm a root cause, Canadian dealers were sent letters from Honda Canada in February that told technicians about complaints of engine and oil warning lights activating in 2015-2018 CR-Vs and 2016-2018 Honda Civics. Honda Canada further said many cases were associated with high oil levels due to fuel or water contamination.
The notice says technicians should report the symptoms and concerns to Honda Canada so the automaker can continue to investigate the issues.
According to American Honda spokesman Chris Martin, complaints from CR-V owners in cold regions correspond with what Honda engineers determined in China.
"It really is an extreme cold weather issue that's happening in China, and they termed it a "safety recall" because of the way the local government works, but there really is no safety aspect to it. It doesn't change how the engine runs, and basically if you drive the vehicle for a longer period of time, all of the fuel in the oil will burn off through normal combustion."
Mr. Martin says at the time the Chinese action was announced, Honda hadn't really seen a pattern of that type of failure in the U.S., but "that surely could change."
"We've been watching to see what kind of consumer complaints come up in order to determine whether that issue will affect the U.S."
One of those complaints comes from a Wisconsin 2017 Honda CR-V owner who reports their SUV suffered engine problems, with the first sign a noise coming from the engine.
"I brought the CRV in for 1st oil change at 7143 miles, told them about the clicking noise, the response was it was normal. The noise got louder so took it in. They agreed something was wrong. Cause: the rattle and tick is caused by the head not getting proper lubrication because of the over abundance of fuel in the crankcase. They were instructed to replace the head assembly and injectors. Meanwhile they changed the oil and filter told me I could drive it for it will not hurt the motor. hmmmm?"
When asked about reports of alleged engine damage and dealers allegedly performing repairs, Martin says the automaker hasn't sent bulletins to those dealers and in the absence of any clear information, a U.S. dealership can perform warranty work based on its own diagnosis of the vehicle.
"It's so early in the process and only recently came to the attention of Honda in China, but there wasn't a pattern of similar failures in the U.S. to follow and we need that pattern to see if U.S. problems are truly related to the same problems in China. It's one of those things that are a little bit disconcerting to the people, but there's no real adverse effects related to it."
American Honda says there isn't much to say at this point because the automaker needs to first come to an engineering understanding to conclude that there truly is a problem.
Many CR-V owners complain about multiple problems with their SUVs, including issues with heating, vibrations, gas odors in the cabins and increasing oil levels due to fuel mixing with the engine oil.
According to Honda, engineers must determine exactly which symptoms match what root cause and then determine appropriate repairs for the vehicles.
Attorneys are also investigating alleged engine oil contamination problems in 2016-2018 Honda CR-V SUVs to decide if a class-action lawsuit should be filed to represent affected CR-V owners. You can learn more about that here.