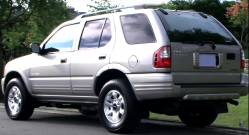 — About 47,000 model year 2001-2004 Honda and Isuzu SUVs may fall under a federal investigation following a petition to investigate gas tanks that detached from the vehicles.
The National Highway Traffic Safety Administration (NHTSA) says it received a petition to open an investigation from a consumer who reported the 2004 Isuzu Rodeo fuel tank shield failed due to corrosion. The failure allegedly caused the front of the fuel tank to drop 5 to 6 inches from the SUV.
SUVs named in the petition include the 2001-2004 Isuzu Rodeo, Isuzu Axiom and Honda Passport.
The petitioner cited complaints about corrosion of the rear suspensions in the Honda and Isuzu SUVs, including one gripe that came from the owner of a 2001 Isuzu Rodeo who said the right rear sway bar bracket totally rusted away from the frame when the vehicle had 80,000 miles on it.
According to the complaint, the entire frame rusted, along with the gas tank mounts and front and rear suspension components.
"No advance warning of bracket failure or how bad the rustout really is ,as rest of suv is in excellent condition. Had sway bar bracket rewelded, but do not trust any other welded to frame components."
The Rodeo owner also had a message for the government.
"I do not understand the delay in recalling these vehicles, and wish your agency would get off their butts and do something for the owners of these suv's. I am disgusted it is taking your agency so long to make a decision in is what a very well documented failure."
NHTSA says the 2004 Isuzu Rodeo is equipped with a 19.5 gallon plastic fuel tank, but the lower surface of the tank is covered by a metal shield that protects the gas tank and secures it to the SUV. The shield is secured to the fuel tank by two straps and holding the shield to the chassis are six mounting bolts.
The same fuel tanks and shields installed on 2004 Rodeos are also used in 2001-2004 Isuzu Rodeos, 2002-2004 Isuzu Axioms and 2001-2002 Honda Passports.
In addition to complaints about detached fuel tanks, some owners report corroded shields that cause worries about the integrity of the fuel tanks and shield components.
About 150,000 of the Isuzu vehicles were recalled in 2010 for rear suspension corrosion problems, but the recall involved only states where road salt was often used in winter.
Then in 2013, about 9,000 model year 2003-2004 Rodeo and Axiom and 2003 Rodeo Sport vehicles were recalled in salt-belt states due to corrosion of the rear suspensions. The corrosion was bad enough the automaker offered to buy back some of the vehicles.
Safety regulators will look into the matter and decide whether the petition should be denied or granted.
CarComplaints.com will update our website with results of the petition request.
Read owner-reported complaints about the Isuzu Rodeo, Isuzu Axiom and Honda Passport.