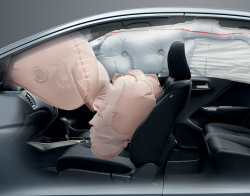 — Malaysian authorities have had enough with Honda vehicle owners who ignore airbag recall notices and will lay penalties on those customers who don't get their vehicles repaired.
Malaysian Transport Minister Anthony Loke made the announcement following confirmation of another death in a Honda vehicle that involved a ruptured Takata airbag inflator. Or in this case, Honda says two Takata airbag inflators ruptured in the same crash.
An official cause of death hasn't been confirmed, although the driver did suffer wounds from at least one of the ruptured metal inflators.
The latest Malaysian death occurred in a 2004 Honda City car driven by 23-year-old Pong Hou Tien who was found with a 2-centimeter-long rusted piece of metal stuck in his neck, metal that came from the ruptured Takata airbag inflator.
Transport Minister Loke says he is tired of watching people die because they ignore recall notices or because they move from their original address and don't let authorities know about the move.
The latest death is the perfect example as Honda had sent 28 letters to the address on file for the 2004 Honda City owner, yet Pong's family says he received none of them.
The last letter was sent six days before the driver was killed, but Mr. Loke says the Honda owner never updated their address with Honda or with Malaysian regulators.
Loke says he hopes the threat of penalties will push Honda owners to take action and get their airbag inflators replaced. In addition, owners will hopefully be more inclined to take the initiative to verify if their vehicles are included in a Takata airbag recall.
"If they want to complain about me making their lives troublesome by having to go through a tedious process, let them do so. I would rather be complained at than visit another victim of an accident that could have been avoided in the first place." - Transport Minister Anthony Loke
Mr. Loke says he will meet with automakers about the remaining vehicles that need repairs, and based on those discussions, Malaysia may publish information naming any owner who hasn't had their vehicle repaired.
Based on current records, more than 71,000 people could be penalized for not getting the airbag inflators replaced in Honda vehicles.