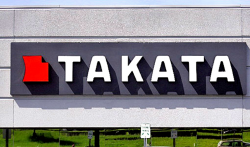 — A hearing before a Delaware bankruptcy judge freed airbag manufacturer Takata to exit Chapter 11 bankruptcy and enter a reorganization plan that allows Chinese-owned Key Safety Systems to take control of Takata's non-airbag inflator businesses after a $1.6 billion deal.
The judge approved the settlement after attorneys for injured consumers, Takata's creditors and multiple automakers agreed to the terms. Under the agreement, automakers will pay up to $130 million as part of a compensation package for consumers injured by faulty airbags.
The action makes official the agreement that requires the airbag manufacturer to pay $850 million to help automakers cover some of the cost for airbag recalls. Another $125 million will be paid to compensate drivers injured by exploding airbags.
In addition to injured vehicle occupants, the bankruptcy agreement includes a list of creditors affected by Takata's bankruptcy and certain states that sued the company.
The bankruptcy judge heard from at least 13 automakers that have recalled tens of millions of vehicles to replace Takata airbag inflators at risk of exploding and sending shrapnel into occupants. At least 22 people have been killed worldwide, with most of those deaths occurring in the U.S.
By the end of 2019, at least 42 million vehicles and 70 million airbag inflators will have been recalled in the U.S., with about 100 million inflators recalled worldwide.
The bankruptcy plan creates a trust for those injured by the airbags and an additional "Channeling Injunction" for future victims of airbags in Honda vehicles. More people have been killed in Honda vehicles than any other automaker, including the last confirmed fatality in a 2004 Honda City.