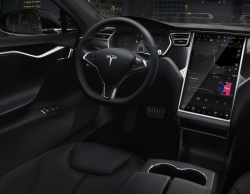 — Tesla is recalling about 123,000 Model S cars built before April 2016 because of power steering problems.
Tesla says a driver may need to use more force when steering the car, especially at slow speeds or when trying to do something such as parallel parking.
The electric automaker found a problem with excessive corrosion of the power steering bolts in states where road salt is used due to snow and ice. The corrosion was worse where the salts were made with calcium or magnesium in place of sodium.
The automaker says the connection between the steering wheel and steering rack is solid at all times and the problem won't result in steering loss or separation of the power assist motor from the car.
However, Tesla says all affected Model S cars will be recalled worldwide to make sure the power steering keeps working.
There have been no crashes or injuries related to the bolts, according to Tesla, but the automaker will retrofit components of the power steering systems on the Model S cars.
Model S owners should soon receive recall notices to get the cars to service centers. The aluminum gear mounting bolts will be replaced with coated steel bolts and a sealer will be applied to prevent corrosion. Tesla will replace the steering gear if the mounting bolts are broken.
It's expected the job will take about an hour.
With questions about the recall, Model S owners may contact Tesla at 877-798-3752. Tesla's number for this recall is SB-18-32-002.