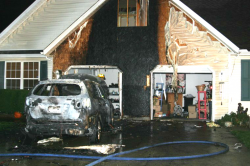 — Kia Optima, Sorento and Soul fires will be investigated by federal safety regulators following nearly 1,800 fires that were reported in those vehicles.
The investigation includes nearly 1.7 million 2011-2014 Kia Optimas, 2011-2014 Kia Sorentos and 2010-2015 Kia Souls that caught fire and caused at least 77 injuries and one fatality.
The National Highway Traffic Safety Administration (NHTSA) looked into the problem following a June 2018 petition from the Center for Auto Safety (CAS) after complaints about non-collision fires.
The original petition included the 2011-2014 Kia Optima and Sorento, and Hyundai Sonata and Santa Fe, but the Center later added 2010-2015 Kia Souls after finding possible problems with that model.
According to the petition, there are higher incidents of non-collision fires in Hyundai and Kia models compared to similar models from other automakers. However, even the Center for Auto Safety wasn't aware of how bad the problems were.
Once NHTSA requested information from Kia, the agency learned of 1,540 reports of vehicle fires made directly from consumers to the automaker. This is in addition to 244 fire complaints filed with NHTSA by Kia customers concerning non-crash fires related to Theta II engines and other Kia vehicle systems and components.
NHTSA had already opened what it terms a "recall query" on all Kia vehicles with Theta II engines for engine failures that caused stalls and fires. However, the query doesn't cover Kia Soul vehicles.
While this was taking place, Kia ordered more safety recalls related to engine compartment fires for the models included in the CAS petition and for other Kia models.
Previous recalls issued by Kia have primarily related to engine fires, but NHTSA's investigation will include non-collision fires from Theta II engines as well as other Kia vehicle systems and components.
CarComplaints.com will update our website with results of the federal Kia fire investigation.