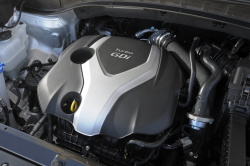 — Hyundai and Kia vehicles equipped with Theta II engines have higher rates of fires compared to similar vehicles made by other manufacturers, that's according to researchers with the Highway Loss Data Institute (HLDI) and the Insurance Institute for Highway Safety (IIHS).
Researchers took more notice of Hyundai and Kia fires after the Center for Auto Safety (CAS) called for both automakers to recall three million vehicles.
Hyundai and Kia have spent the past few years facing investigations, lawsuits and recalls targeting 2011-2014 Hyundai Sonatas, 2013-2014 Hyundai Santa Fe Sports, 2011-2014 Kia Optimas, 2012-2014 Kia Sorentos and 2011-2013 Kia Sportages.
Researchers with HLDI say small and turbocharged engines seem to be causing an increased risk of fires, and not just in Hyundai and Kia models.
However, HLDI did find significantly higher rates of non-crash fires for the 2011-2013 Kia Optima and Hyundai Sonata than for other mid-size cars. In addition, the 2011-2015 Kia Sorento, 2012 Hyundai Santa Fe and the 2013-2014 Hyundai Santa Fe Sport also had higher non-crash fire claim rates than other mid-size SUVs.
Researchers say they expanded their study to investigate fire claims by engine type and determined Hyundai and Kia vehicles equipped with 2-liter turbo engines had the highest rates of fires. Hyundai and Kia vehicles equipped with 2.4-liter engines had higher non-crash fire claim rates compared to similar vehicles, but still not as high as the 2-liter engines.
Additionally, researchers say the fire risk "went up dramatically" as the vehicles got older, regardless if the vehicles were equipped with 2-liter or 2.4-liter engines.
HLDI says a separate study of various manufacturers shows more fires occur in turbocharged and supercharged engines compared to non-turbo engines, something that may be contributing to the Hyundai and Kia fires.
And although much attention has been paid to the Theta II engines installed in the vehicles, it's possible other causes may be to blame in some of the fires.
For example, the Center for Auto Safety found a large number of fires attributed to the 2010-2015 Kia Souls. But that model has a different engine and hasn't been included in Kia fire-risk recalls.
Even Hyundai employees have claimed whistleblower status to speak out about alleged problems with Theta II engines, as seen in 2016 when a South Korean engineer spoke up.
The research results arrive at a time when Hyundai and Kia just ordered recalls of previously recalled vehicles because the fuel lines may have been damaged when the engines were replaced.
About 1.7 million Hyundai and Kia vehicles were recalled starting in 2015 due to problems related to the engines, with some owners complaining their vehicles were destroyed by non-collision fires.
Hyundai said the Theta II engines had metal debris left over from machining processes, debris that could interfere with the flow of oil to the connecting rod bearings.
Researchers say they passed their results on to federal safety regulators considering the National Highway Traffic Safety Administration opened investigations into the recall processes of Hyundai and Kia.
CarComplaints.com has complaints about the vehicles equipped with Theta II engines: