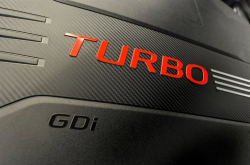 — A Kia engine replacement recall issued in 2017 has caused the automaker to order another recall to repair about 68,000 vehicles that weren't properly fixed the first time around.
Kia says the following vehicles are included in this latest recall if the vehicles had their engines replaced during the 2017 recall:
2011-2014 Kia Optima (50,051 vehicles built from August 12, 2010, to May 15, 2014)
2012-2014 Kia Sorento (17,024 vehicles manufactured April 19, 2011, to February 10, 2014)
2011-2013 Kia Sportage (1,052 vehicles produced from December 30, 2010, to August 30, 2013)
Kia had recalled 618,000 of the same models following reports of failed engines due to worn bearings, something dealers allegedly would repair by replacing the engines. But Kia now says dealers may have messed up when installing the high-pressure fuel pipes that go to the fuel pump outlets.
According to Kia, the fuel pipes may be out of position, improperly torqued or may have been damaged during installation.
The automaker says fires have occurred from leaking fuel, but no crashes or injuries related to the fuel tubes have been reported. Not much of a consolation when you're watching your vehicle burn to a crisp because the dealership failed to properly install the replacement engines in the first place.
This time Kia dealers will receive instructional videos from the manufacturer about how to properly install and torque the fuel pipes and connectors. In addition, affected owners can be reimbursed for out-of-pocket repairs related to the engines and fuel pipes.
Kia didn't announce when the fuel pipe recall will begin, but concerned Optima, Sorento and Sportage owners may call 800-333-4542.
In addition to the recall, Kia also announced a lifetime warranty extension for the vehicles if the damage was caused by the connecting rod bearings.
The automaker also created a "product improvement campaign" to install software to provide warnings to drivers of possible engine trouble caused by damaged bearings.
The Kia recall was issued the same day Hyundai recalled about 100,000 vehicles that had their engines replaced in previous recalls.
CarComplaints.com has owner-reported complaints about the Kia models named in the recall: