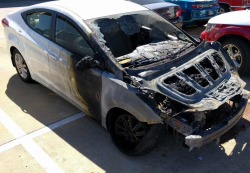 — Hyundai and Kia engine fires have caused a lawsuit that alleges gasoline direct injection (GDI) engines lack enough lubrication to prevent the engines from spontaneously bursting into flames.
According to the proposed class-action lawsuit, drivers of these vehicles are at risk of watching their vehicles catch fire.
2011-2019 Hyundai Sonata
2013-2019 Hyundai Santa Fe
2013-2019 Hyundai Santa Fe Sport
2011-2019 Kia Optima
2012-2019 Kia Sorento
2012-2019 Kia Soul
2011-2019 Kia Sportage
The lawsuit says there have been more than 350 complaints about vehicles that caught fire without any collisions occurring. The plaintiffs claim defects in the engines block the flow of oil to engine components such as the connecting rod bearings. This allegedly causes the engines to seize because the lack of oil lubrication prematurely wears out the engines.
Customers complain about connecting rods that break and knock holes in the engines, allowing fluids to leak and ignite fires.
Out of the eight named plaintiffs, two claim their engines caused fires and two say their engines made knocking sounds. The other four plaintiffs say their engines are defective even though the lawsuit doesn't claim those owners experienced engine problems.
One owner who does claim their vehicle caught fire is a man from Georgia who purchased a used 2011 Hyundai Sonata for his teenage daughter. Due to a previous Sonata engine recall, the plaintiff says he believes the vehicle's engine was tested before he purchased the car. However, the engine allegedly wasn't replaced.
According to the plaintiff, the engine caught fire in November 2018 while his daughter was driving. It was later determined the connecting rod bearing broke and caused the connecting rod to pierce the engine and set the car on fire.
The other plaintiff who alleges a vehicle fire says she purchased a used 2015 Hyundai Santa Fe that suffered an engine fire in July 2017 as her boyfriend was driving on a highway.
The lawsuit alleges numerous GDI engines are defective, including 2-liter and 2.4-liter "Theta II" engines, "Gamma" 1.6-liter engines, "Nu" 2-liter engines and "Lambda II" 3-liter, 3.3-liter and turbocharged 3.3-liter GDI engines.
The lawsuit references multiple recalls and actions taken by safety advocates and the government following reports of Hyundai and Kia engine fires.
Hyundai recalled about 470,000 Sonatas equipped with 2-liter and 2.4-liter engines in 2015 after saying debris was causing contaminated engine oil to flow through the engines. In 2017 the recall was expanded by another 572,000 vehicles and Kia announced its own recall of 618,000 vehicles.
The recalls caused federal safety regulators to open investigations into Hyundai and Kia recall processes for the 1.7 million recalled vehicles. But more trouble followed when the Center for Auto Safety said both automakers were ignoring the fire dangers.
In a petition to the National Highway Traffic Safety Administration, the Center said more than 200 non-collision fires had been reported in Hyundai and Kia models, including in vehicles that had been repaired during the engine recalls.
The plaintiffs also allege it's clear Hyundai and Kia are avoiding the subject of engine fires because executives from both automakers were invited to answer questions during a Senate Commerce Committee hearing.
But instead of showing up at the hearing, management said they wouldn't attend because fires occur in all vehicles and no other automakers were requested to attend.
In October 2018, Kia began sending owners and lessees of 2011-2014 Optima, 2012-2014 Sorento and 2011-2013 Sportage vehicles letters about a "Product Improvement Campaign" because of reports about non-collision fires.
The letters informed customers about a software update to allegedly protect the engines from connecting rod damage.
According to the lawsuit, Kia also created a "Knock Sensor Detection System that detects vibrations indicating the onset of excessive connecting rod bearing wear in the engine. The KSDS is designed to alert a vehicle driver at an early stage of bearing wear before the occurrence of severe engine damage including engine failure."
The Hyundai and Kia engine fire lawsuit was filed in the U.S. District Court for the Central District of California - Flaherty, et al., v. Hyundai Motor Company, et al.
The plaintiffs are represented by Hagens Berman, and Hilliard Munoz & Gonzales.