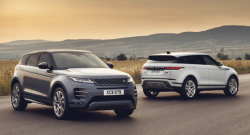 — Land Rover is recalling about 2,700 model year 2020 Range Rover Evoque SUVs because the front and rear windshield washer systems may fail due to fuse problems.
A fuse in the engine junction box for the front or rear windshield washer system may fail if used in freezing weather or if the system is blocked.
Land Rover opened an investigation in March following windshield washer pump failures that occurred on 2020 prototype vehicles being tested in Sweden. Engineers determined a pump failure could be prevented if the 15A fuse was replaced with a 25A in the junction box.
Although a failed windshield washer pump could cause trouble if a driver seriously needed it, Land Rover says there have been no reported crashes or injuries.
Land Rover says 2,200 recalled SUVs are in the U.S. and more than 500 are recalled in Canada.
Land Rover dealers will replace the 15A fuses with 25A fuses for the front and rear windshield washer systems, and the engine junction box lids will be replaced. The automaker says the vehicles need new lids so the fuse amperage schematics embossed on the lids display the correct fuse ratings.
In addition, Land Rover has printed new supplements to reflect the correct fuse info for the handbooks.
The 2020 Range Rover Evoque recall is expected to begin August 2, 2019.
Range Rover Evoque customers with questions should call 800-637-6837. Land Rover's number for this recall is N341.