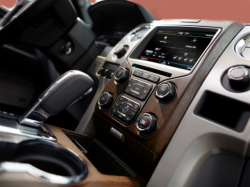 — A Ford F-150 downshift recall is allegedly good enough to repair problems that were investigated by the National Highway Traffic Safety Administration (NHTSA).
In addition to 2011-2013 Ford F-150 trucks, the investigation included 2011-2013 Ford Expeditions and 2011-2013 Lincoln Navigators.
Nearly 1.4 million vehicles were affected by the investigation after safety regulators learned of 1,238 complaints of transmissions that suddenly downshifted without drivers shifting gears.
Although Lincoln Navigator and Ford Expedition vehicles were involved, NHTSA says Expedition and Navigator complaint rates are lower than Ford F-150 complaints.
Of the 1,238 unique reports, 34.7% claimed the rear wheels locked up when the transmissions downshifted, causing at least 10 crashes and three injuries. Many drivers said the sudden downshifts caused them to leave their lanes or go off the roads.
NHTSA learned the vehicles could downshift at any time, but drivers said the problem usually occurred at higher speeds.
Ford told NHTSA about 1,206 warranty claims related to sudden downshifts, with most reports filed about F-150 truck transmissions that downshifted without any driver input.
Customers also report the vehicles suffer problems such as the loss of speedometers, transmissions stuck in one gear and erratic shifting.
Drivers said they often had to come to complete stops and restart the vehicles to get them to shift properly.
The Ford investigation was opened at the end of 2017, then in February 2019 Ford told NHTSA a recall would be ordered for about 1.5 million model year 2011-2013 F-150 trucks equipped with 6-speed automatic transmissions.
Ford says the problem is caused by the loss of signals from the transmission output speed sensors to the powertrain control modules. The signal loss can result in an unintended downshift into first gear.
The Ford recalls call for technicians to reprogram the F-150 powertrain control modules with software that will prevent unintended downshifting. The software will also cause a warning light to activate just in case there is a loss of signal.
The automaker also said 2011-2013 Ford Expeditions and Lincoln Navigators would receive extended warranties related to the transmissions.
Following the February F-150 recall, Ford issued another recall in June 2019 for about 123,000 model year 2013 F-150 trucks that had already been repaired under the previous recall. According to the automaker, updates to the powertrain control module software were "incomplete" and the trucks still suffered from transmission problems.
Federal safety regulators are closing the Ford F-150 downshifting investigation based on Ford's recalls, but NHTSA says complaints will be monitored to determine if the recalls are adequate and if the vehicles are safe to drive.
CarComplaints.com has complaints from owners of the vehicles named in the investigation.