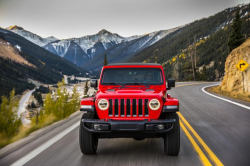 — A petition to investigate model year 2018 Jeep Wrangler frame weld problems has turned into a formal investigation of about 270,000 model year 2018-2019 Wranglers for potential frame issues and steering problems.
The National Highway Traffic Safety Administration (NHTSA) received a petition in 2018 to open an investigation into alleged Wrangler frame weld problems in about 220,000 model year 2018 SUVs.
According to the petition, the frames have multiple welding defects, including a lack of weld penetration, porous welds, areas where the welds dripped and excessive leftover weld materials.
In response to the petition, NHTSA contacted Fiat Chrysler (FCA US) and requested information about frame weld problems on all 2018-2019 Jeep Wrangler "JL" SUVs.
Chrysler had recalled 24,000 Wranglers in 2018 because of front track bar brackets that may not have been welded properly, so NHTSA also requested information concerning complaints about steering systems that locked up, loose steering or reports of steering wobble and shimmy incidents.
While safety regulators were reviewing the data, NHTSA found reports of frame weld problems not included in the 2018 recall, in addition to the discovery of more than 3,500 steering-related complaints.
The government also claims "the information that FCA provided did not adequately address whether frame weld quality deficiencies compromise the structural integrity of vehicles, and therefore may pose an unreasonable risk to motor vehicle safety."
According to NHTSA, the agency needs to study any possible links between steering-related complaints and weld quality problems.
Model year 2020 Jeep Wranglers are not included in the investigation and no crashes or injuries have been reported.
Although no recall has been issued, FCA says it is fully cooperating with NHTSA on the investigation that will determine if a recall is warranted.
CarComplaints.com has owner-reported complaints about 2018 Jeep Wrangers and 2019 Jeep Wranglers.